by (Mary) Helen Williams, The Gretna Glance
Sweet Ashley Heathcock is an amazing costume designer with extraordinary talent who spent a short season of her life in New Orleans. She set out to "make it" in the fashion design industry, but shifted her edgy talent to the costume design arena.
And make it she has! In the tough industry of network TV, she finds herself in the running for a coveted Emmy nomination as Costume Designer for Season 2 of CBS' Magnum P.I..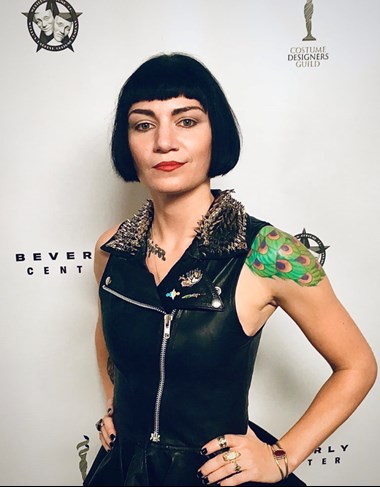 She also designed Clark Duke's crime drama Arkansas, on Amazon Prime released in May 2020 with the all-star cast of Vince Vaughn, Liam Hemsworth, John Malkovich and Vivica A. Fox. 
"The Emmy nominations will be announced in the A.M. on July 28. Right now it's open voting, so fingers and toes crossed for me!!" Ashley wrote.
Since she was a little girl, Ashley Heathcock was always passionate about fashion. This is her story.
"When I was eight, I attempted to sew a top cut out of old curtains. Unfamiliar with sewing techniques at that age, the seams wound up on the outside of the garment," Ashley said. "My family didn't have much money to spend on my wardrobe. After seeing Clueless, I decided to use fashion to change people's perception of me."
Ashley garage-sale shopped and her mother taught her how to use a sewing machine. Thanks to their diligence, by age 12 she was voted best dressed at her school. "My passion led to sketching outfits that I wanted, but couldn't find in stores because of my petite frame," she said. 
This passion led her to pursue a higher education in fashion design at AIU London. She knew she would have to command every role from wardrobe PA to filler, shopper, seamstress, illustrator, etc. to attain her goal.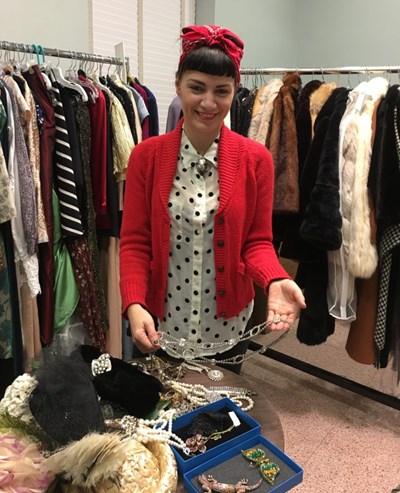 Work in Austin, Texas led her to the Graphic II Art Bra Fundraiser with jewelry designer Dean Fredrick. Together they designed the highest bid bra, out bidding other designers such as Debbie Harry from Blondie. Ashley was a finalist for Texas' Next Top Designer.
In 2010 she moved to New Orleans to pursue fashion and realized just how big the film industry was in the Crescent City. "I started as a costume intern, within a year was moved up to seamstress and joined the local union," she said.
She kept going up the ladder, rung to rung, from set costumer, fitting costumer, ager/dyer, costume shopper, costume illustrator and assistant to reach her goal as costume designer. She worked on over 20 films in Nola.
"I was the head textile artist for the film The Long Night, about the BP oil spill. I had the wonderful opportunity of working with director Peter Burg. It was my job to make the clothes in the movie look as though they had been through an oil explosion, without using oil and to keep the clothes dry for the comfort of the actors," Ashley said.
Between film and television work, she designed music videos and short films and had a jewelry line called HEATHCOCK.
Some of the productions she worked on include Abraham Lincoln: Vampire Hunter, 22 Jump Street, True Blood, Treme, Now You See Me, Focus and Dawn of the Planet of the Apes, the latter of which allowed her to master the especially skilled craft of aging/dying. All can currently be seen on HBO, Amazon Prime or YouTube.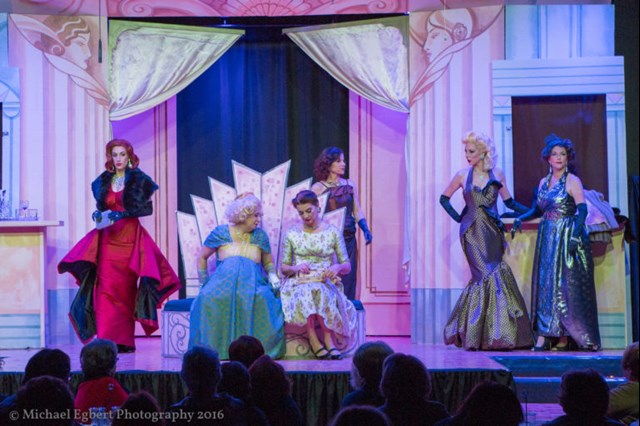 She gained friends and local fans in early 2016 while working at the newly opened Gretna Cultural Center of the Arts as costume designer on the play, "The Women."
Local actor and director Dane Rhodes said, "Sandy Bravender and I brought forth The Women to Mayor Constant with the purpose of an inaugural performance at the new center, featuring a cast of 42 women from the Westbank, most of which had never been on stage. It was true community theater when professionals were mixed with amateurs."
"The very center of that show is fashion, vintage clothing, furs, hats and jewelry. We don't have many fashion designers here in the community theater arena. I had met Ashley on a short film called Girls Driving and fell in love with her attitude and portfolio. She was the only person I considered for this position.
"I said to Sandy, "If we can't get Ashley for this show, I'm not sure we can do it." We got lucky! But, giving where she was in her career and the timing for us, she jumped right on the project. She was the very first person hired for the play. I am going to forever be grateful to her because what she did with such a limited budget was magical. She blew up in the industry right after the show and it was inevitable that she would go out to the West Coast."
"I moved to Los Angeles after joining the Costume Designer Guild in 2016, a union composed of costume illustrators, assistant costume designers and costume designers. This allowed me to work on union productions in California. I reached out to industry contacts from working in the New Orleans scene, had coffee and lunch with anyone I had previously worked with to let them know I was now in LA ready to work and to gain any insight they might offer," Ashley said.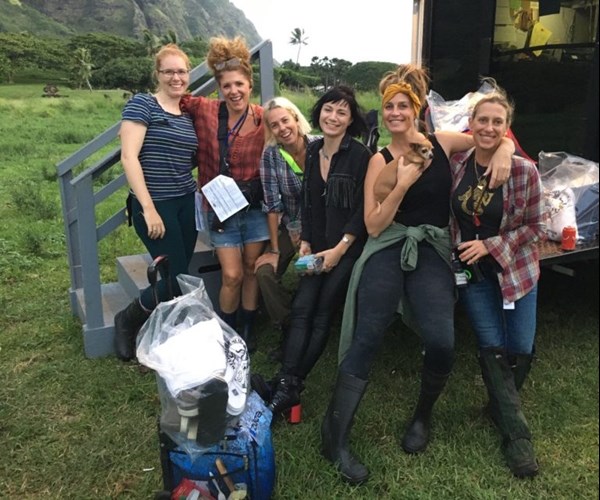 "I was fortunate to join the American Horror Story Roanoke costume team after two weeks of job searching in LA.  A temporary position, but an amazing experience when I had the opportunity to help Lou Eyrich with Lady Gaga's costume as an additional assistant costume designer. 
"Fox's Scream Queens was beginning its second season and I knew the costume designer, Lauren Bott through our New Orleans film and television circle. She needed additional assistance with the 'Chanels' costumes so I hired on until a call came for a full time position as assistant costume designer for Kelli Jones for the Netflix film Bright.  I went on to assist in other films and TV shows, including Venom and The Orville for two more years."  
Ashley quickly become a sought-after designer beginning with designing award winning short film Pleasant Canyon, which won best short at Mammoth Film Festival.  Then came the feature Dark Meridian that won awards at Festival of Cinema NYC and Madrid International Film Festival. 
"It all felt very serendipitous, I was in LA at the right time. I would find myself dealing with different challenges on each of these productions, but I always felt like there was a solution. My film and television experience in New Orleans was a versatile and strong foundation that equipped me for such obstacles.
"By 2018 I had landed my first union film as costume designer with a small, but very talented team. It was a small film called Shookem Hills that we shot in the caves of Kentucky.  Traveling around the Appalachian Mountains was a beautiful experience, a great time throughout the weather and budget challenges," Ashley said.  
"Later that year I joined Clark Duke for his directorial debut, Arkansas.  It was a great script that took place in the South which helped me visualize the characters and feel a personal connection to the story. Although a very fast prep, I eagerly designed layered and interesting looks for the unique characters. 
"There were many script days in the story which meant many costume changes. But, I had handled over 90 costume changes on The Women in Gretna. I really think that theater production gave me confidence in knowing I could handle the near 160 costume changes and continuity challenges. Many of the changes had to happen on set.  Most of this film was shot in coastal Alabama, fun to travel back to the South. I'm so thankful that I was a part of Arkansas, it had a successful "at home" release.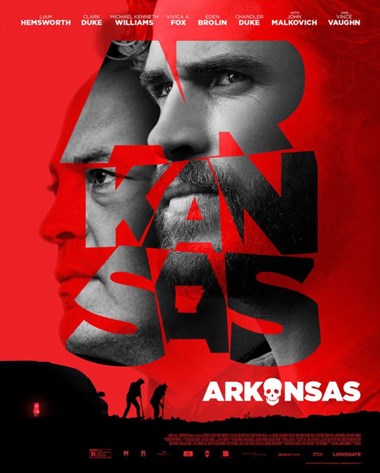 "In the spring of 2019 I interviewed for the costume design position of Magnum P.I. and was thrilled when I got the job. My first TV series and in Hawaii, imagine the joy. I couldn't wait to learn the history of the Aloha shirts so that I could design custom ones for Magnum. The cast was great and it was fun collaborating with them. 
"A series moves fast, not much time to prep for an episode, in fact you must prep for the next episode while you're shooting the current one. Magnum P.I. is a contemporary show so most of the costumes are shopped, but we still did many creative alterations. We often dyed garments, aged down clothes and changed the build of a garment to get it just right. Hawaii is a beautiful location, a heavenly place to live and work," she said.   
"My decision to leave New Orleans was tough but film work had started to slow down due to the tax incentive cap and I was concerned I wouldn't be able to continue to grow.  As painful as it was to  leave, I know that I wouldn't be where I am in my career if I hadn't left, but I also know that I wouldn't  be where I am in my career without my film and television experience in New Orleans.  I think of both New Orleans and Los Angeles like chapters in a book, equally important to the story as a whole.
"And now it's hard to say where any of us in film and TV will be in the near and distant future, if we'll have jobs or not. I have to mention this, it's on all of our minds in the industry.  Our industry is completely shut down. Although safety protocols are being created, no one knows when we will be able to safely go back to work.  I'm very concerned, but trying to remain hopeful at the same time," Ashley said. "The possibility of an Emmy nomination is truly a bright spot at this time."
Ashley, be assured that all of your friends, family and fans from Gretna, Nola and everywhere you have touched wish you well and will add lots of prayers toward this fabulous nomination possibility!
To enjoy Ashley's experiences, go to http://www.ashleyheathcock.com.