Because was she "stuck in pre-pubescent nightmare when it comes to fashion, because of her father," Mary Anne favored cardigans, skirts and loafers in the first half of her season, with the costuming having a surprising impact on Baker.
"I have a new appreciation for clothes," she told E!. "I wasn't much of a fashionista before, I still admit I am not...but those loafers and the skirts and the cardigans, it was a whole new experience for me."
While on set, the girls had a special nickname for the loafers, with Grace revealing they were called "the Benjamin Franklin shoes."
"She is more mature than the other girls in some ways, and we wanted her to visually stand out and her more sophisticated big city NY look helped us tell that story," Summers said of finding Stacey's more sophisticated look.
Plus, Summers wanted to find "layered" looks for the club's treasurer "as she had something to hide (her insulin pump) at the beginning."
For Stacey's chic wedding ensemble, Summers revealed she couldn't find a black and white dress she liked so she "purchased two dresses, one white one black, used the top of one and the skirt of the other." A "custom black and white fascinator" was just the cherry on top of the cake.
And Stacey's fashionista tendencies ended up rubbing off on her portrayer, with Rudolph telling us, "I feel like there were certain things that Stacey wore that I was like, 'Oh my god, I totally want to wear this.' But at the same time, when we started filming, my fashion sense was not as advanced as it is now.' Being able to play Stacey and wear all of these amazing outfits definitely changed the way I wanted to dress overall. 
Rudolph was such a fan of her character's wardrobe that she was even rocking one of Stacey's shirts during an interview with E! News. "[It was] really awesome to take a little piece of the Baby-Sitters Club home," she told us.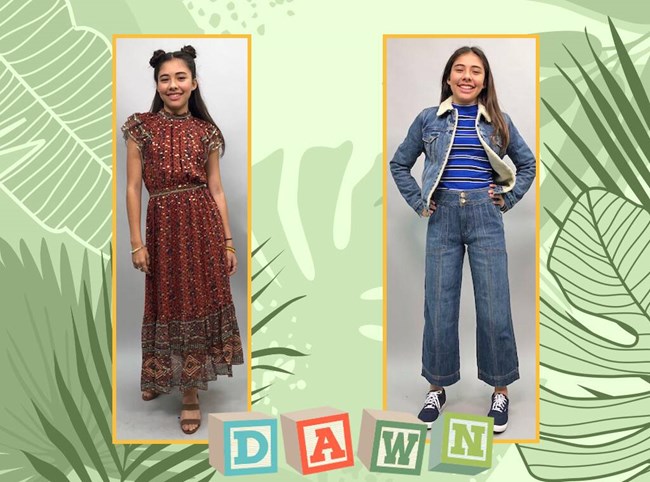 Dawn Schafer (Xochitl Gomez)
As a transplant from Los Angeles, the new Stoneybrooker was bringing major "needed to standout as a newcomer, so leaning into her Cali style certainly helped with that."
But rather than go completely for the socal surfer aesthetic, which Dawn is known for in the books, Summers decided to add in a lot more skater girl to the newest BSC member's closet.
To achieve that "Cali boho casual/skater vibes" hybrid look, Summers put Dawn in a lot of accessories, graphic t-shirts with politically and socially-conscious messages and skater sneakers.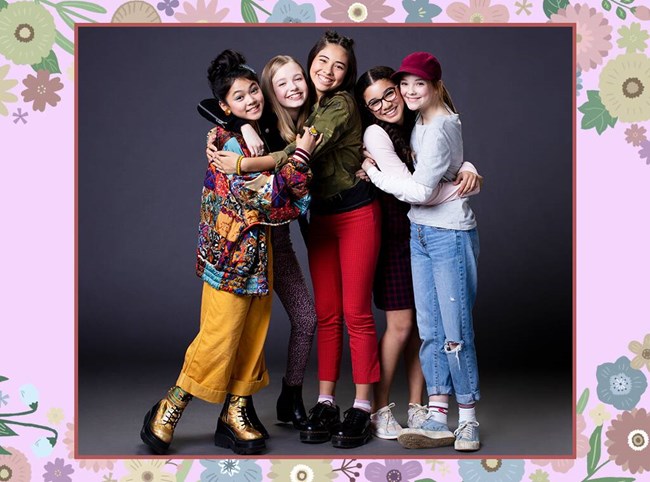 The Club
Wanting to add some BSC vibes to your own closet? Summers revealed where she scored most of the clothes worn by the girls and it's refreshingly affordable and attainable.
"Most of the characters were purchases from places these girls would shop in real life….Zara, H&M, American Eagle, Gap, Urban Outfitters, Aritzia, Top Shop, Kate Spade, Alice & Olivia, Anthropology, Nordstrom," Summers revealed, "and because we shoot in Canada, 80% of everyone's fashion was purchased at Simons in Vancouver."
In fact, "almost all of Claudia's was purchased" at Simons, with "lots and lots of vintage shopping and up-cycling" added to find her signature look. 
And after filming ended, the five main stars were allowed to take home pieces from any of the BSC members wardrobes, with Grace, who had spent the season in Kristy's tomboyish wardrobe, admitting to us, "I totally jumped onto Claudia's wadrobe!"
The Baby-Sitters Club is now streaming on Netflix.