Written by Joey Moser, Awards Daily
Hulu's Tiny Beautiful Things is an intimate examination of loss, grief, and finding oneself. We hold onto things because we can't fathom our lives without them, and that relates to belongs, people, and even clothing. Just think about some of the clothes that you haven't worn in years, because you can't bear to part with them. For costume designer Alana Morshead, memory is tied to the items that we place on our bodies, and there is a bond between us and what we wear.
Kathryn Hahn's Clare is facing numerous crossroads all at once. Her marriage to Danny (Quentin Plair) is on the rocks, and every conversation she has with their daughter, Rae (Tanzyn Crawford) ends in a screaming match.
Cheryl Strayed's writing is very well-drawn. You can almost hear her heart beating or her breath as you read her books. Since this limited series, created by Liz Tigelaar, elicits such an emotional response, Morshead devoured Strayed's novels.
"When I read anything Cheryl had written, it always felt very truthful, whether it was good, bad, or embarrassing," Morshead says. "I wanted the costumes to feel as real. I noticed that sometimes in television, the costumes look too clean or steamed. I didn't want to buy anything new. Everything was either borrowed or purchased from Etsy or eBay or thrifted. I would tell my team that if you found something with a hole in it or a paint stain to leave it. Maybe that was a favorite t-shirt? I just didn't want it to look perfect, because Cheryl's words are so authentic that I wanted it to feel like these were real people having these problems."
Clare gets married to her first husband at a young age, and her wedding dress is one of the highlights of the entire season. Sarah Pidgeon, as young Clare, handles her character's grief with such intensity, but the white dress is ethereal and light. Morshead revealed that this piece wasn't found.
    (Photo: Jessica Brooks/Hulu)
"The only thing I could actually make was young Clare's wedding dress," she says. "Cheryl's mother was a seamstress, and I spent a lot of time talking to her and Cheryl sent me personal pictures of when they were children. They didn't grow up with a lot of money, so her mother made a lot of her clothes. Because we saw her in the nineties, Merritt's character, Frankie, still had a lot of influences from the seventies and eighties. I sourced a lot of vintage tablecloths. Her wedding dress is made up of a lot of vintage linens and handkerchiefs and napkins. They were already embroidered like that, and I pieced them together on a form. I wanted it to have this home feel. It had a lot of meaning, and I wanted Cheryl to see those little Easter eggs throughout in the show. Even if no one else knows, Cheryl would know. In the scene where Merritt tells her kids that she has cancer, she is wearing the same dress and earrings that young Clare wears in the graduation scene, because that's what really happened."
Since we see how the young and adult versions of Clare are tethered with one another, it's important to think about what Clare has refused to get rid of in terms of her clothes. She is a character that is drawn to the history of things and their meaning. It's soulful.
"Because she has moved around a lot and she doesn't have a lot of money, I think she holds onto things," Morshead says. "Maybe when she found out she was pregnant, she kept the shirt she was wearing when she found out even if it is hanging on by a thread. I think she might be sentimental about certain things growing up, and I tried to connect the a bit. In Wild, Reese Witherspoon sees a wolf and thinks it's her mother, and all three Clare's have a wolf shirt. It's not the same one. I was sitting with Cheryl when adult Clare came out with a teal shirt with a wolf on it, and she looked at me and said, 'You got that from my mom.' It's not obvious, but it was important to me. Maybe Clare loved that shirt when she was little or she lost it or grew out of it. Keeping things open like that was important to me. In the first episode, she is kicked out of the house, so I wanted things that she could throw in a bag, take one out to see if it's clean and throw it on. I wanted it to have an effortless feeling that she could change things if she wanted to."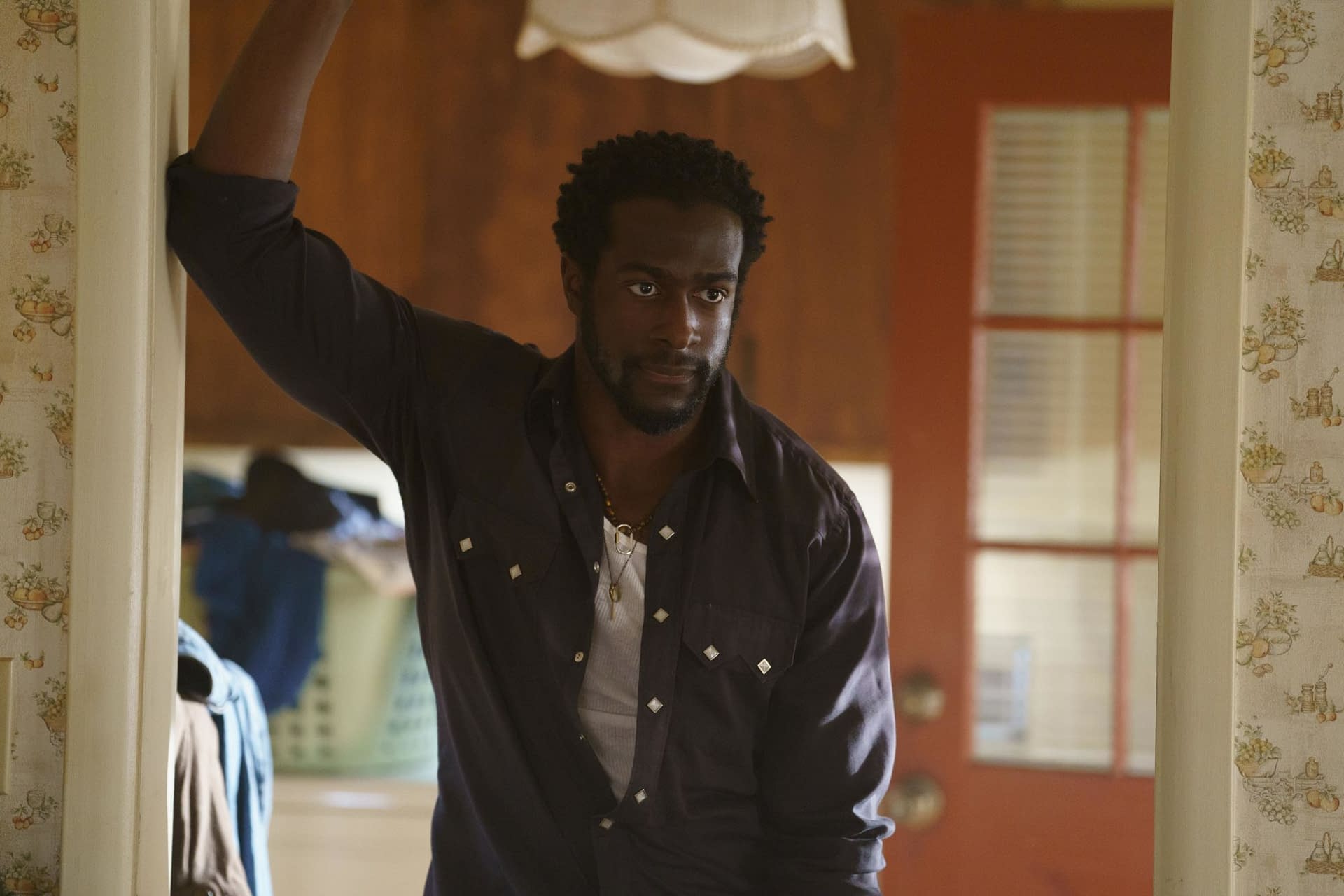 (Photo: Jessica Brooks/Hulu)
I was always drawn to Quentin Plair's Danny not just because of the simplicity of his wardrobe but also the myriad of jewelry he layers on himself. Since he was on the road a lot as a musician when he was younger, he may have purchased a chain or two from a local merchant and kept it all this time.
"Music was such a big thing for him, and you can tell that he was really cool." she says. "You don't have to age out of what you wear, and Danny doesn't have to "become a dad" and automatically wear polos and khakis. You can be in your late forties and have kids and still have that younger self in you. Danny loves jewelry, and he would always wear boots with a little bit of a heel. Lenny Kravitz was a huge inspiration for Danny, and I didn't want to be generic Dad. He's traveled, he's had a life, and he's seen a lot."
Early 2000s style has been coming back in a lot of series and films but also in real-life trends. That time is unbelievably specific, but Morshead drew on her own life and memories to costume a scene where young, pregnant Clare goes out with her friends.
"Clare was going to wear a different shirt in that scene that I wish made it in," she says. "I was that girl. It was a green, satin camisole with pink lace. If you saw it, you know how early 2000s it is. It was about making her feeling relevant without sticking out. It's more difficult to hone in on this time period than you think. Actors will say vintage Bebe or vintage Steve Madden, and I die a little inside."
In episode one, both versions of Clare encounter the fluffy, expansive yellow winter coat gifted to her for Christmas by her mother, Frankie, played by Merritt Wever. The color is so specific, but a young person wouldn't want to stand out in that way. When Hahn's Clare sees it again at the end of the pilot, she breaks down as memories of her mom's death flood back to her. It's a perfect example of how our perspectives can change after we grow up and reminds of the power of sense memory.
"It was scripted as an ugly, mustard coat," Morshead says. "Our showrunner, Liz Tigelaar, is one of the greatest people I have ever collaborated with, and she wasn't rigid on the color being mustard. I wanted it to be, though. There is something specific in why she wrote that. In that age, you don't want that as a young girl. I found that on Etsy, and that one in particular was reversible with the other side being royal blue on the inside. I was so curious about where this coat came from–who bought this coat? We wanted it to be big enough that when Clare opened it, that you could see it on her face. She could not wear it to college–it's so cringe."
     (Photo: Jessica Brooks/Hulu)
If I could sneak onto the set to steal some clothes, I would reach for Danny's necklaces and rings but also a blue and white striped shirt that Hahn wears when Clare and Danny physically rekindle their marriage. What would Morshead snag for herself?
"That's a vintage, Japanese shirt from the forties. Kathryn put me onto this vintage dealer in Los Angeles called Mothfood run by Tommy Dorr. He would just find the most amazing pieces, and I went to his shop. He sources the most amazing things. When she is wearing that suit, that's another Japanese suit from the same time. Kathryn wears things so well. I would take that shirt too.
I love that suit too, so I would take it. It almost didn't make it. Kathryn and I were desperate to find a place, and when we realized it could fit in the graduation scene, we were so happy."
Tiny Beautiful Things is streaming now on Hulu.