by Paul Tassi, Forbes
Cobra Kai continues to be the miracle that keeps on giving. Bringing back The Karate Kid's central actors for a show 30 years later never seemed like a stellar idea, but in practice, Cobra Kai was a brilliant show hidden away on YouTube. Eventually, since no one knew YouTube had shows, it was bought by Netflix, and now we have our first new season under new ownership and…it's even better than the last two.
Cobra Kai season 3 continues connecting old threads to the original movies, while making significant progress on its present day storyline, somehow continuing to make a local karate dojo rivalry enough to watch nearly 20 hours of the conflict over three seasons.
The original Karate Kid movies left a lot of plotlines hanging, namely how Daniel connected with and then subsequently abandoned two girlfriends, which was never really explained. Both are brought back this season, and while there is no real explanation given ("we were so young") it allows some closure to those storylines.
Daniel takes a trip to Okinawa, Japan where he reunites with both Kumiko and Chozen, his former love interest and mortal enemy respectively. Everyone is older, wiser, and Daniel learns new lessons from both, including a powerful scene where Kumiko reads him a letter from Mr. Miyagi shortly before his death. Chozen, meanwhile, teaches him deadly new karate moves, of course.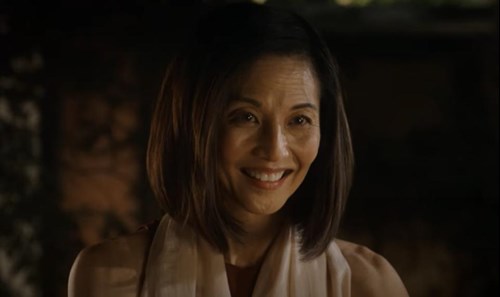 The show also manages to bring back Elisabeth Shu's Ali, as they hinted they would last season, who reconnects with both Daniel and Johnny, and kind of serving as a metaphor for Johnny moving on with his life, as he ultimately chooses Miguel's mother over getting together with a newly single Ali.
The kids are all over the place this season. Robbie is in jail after the school fight, Tory is expelled and Sam is traumatized by Tory's assault, which left her both physically and mentally scarred. Worst of all is Miguel, who wakes from his coma but learns he may be paralyzed. But through…unorthodox pushing from his sensei, Johnny, eventually graduates from bed, to a wheelchair, to crutches, to being fully healed after an undisclosed number of months. The stuff with Johnny and Miguel especially is fantastic this season.
Cobra Kai itself is starting to go off the rails. Under the direction of John Kreese, it's more brutal than ever, and as he starts bringing in school bullies to join its ranks, and kicking out some of the weaker kids, Hawk starts to question his alliance to the dojo. Kreese is a heavy focus this season with a flashback threaded through the whole season that shows him serving in Vietnam, getting captured and the Viet Cong forcing him and his platoon members to fight to the death for their entertainment, showing how he got to his "no mercy' mindset. It's…pretty dark compared to the rest of the show.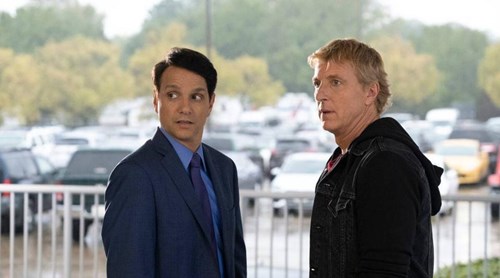 Once again, the season culminates in an absolutely wild fight sequence, where I didn't think last year could be topped, and yet somehow, they manage to do so. The season ends with a pretty huge cliffhanger, but since season 4 is already greenlit, and this show is a huge hit for Netflix, don't worry, we will see it resolved soon enough.
Cobra Kai continues to defy the odds and be one of the most compelling, entertaining shows on TV. Changing hands to Netflix hasn't impacted its stride at all, and in fact, it's better than ever. Don't miss it.
Production Designer: Ryan Berg