With a spacious vacant studio, Burns was able to transform and elevate the interior—starting with Jordan's walk-in closet, which was originally the master bedroom in the condo.
"The windows were floor-to-ceiling glass in the master bedroom so we had to block everything," says Burns, who renovated the space by using grasscloth on the walls to "give it some texture" and frosted glass panels that were backlit to highlight the designer clothes, handbags and shoes on glass shelves.
"I was paying homage to Hermes and Prada. I also did a special thing for Kate Spade with the handbags," Burns reveals. "It was the walk-in closet of your dreams with the marble island in the center. Everything was brought in just for that." He also incorporated the room's original fireplace, covering it with a marble finish.
Burns and his team repainted the penthouse and focused on cool colors, including gray tones and muted black "to bring in that richness." However in her master bedroom he played off the Tiffany blue color and complemented the bright hue with a neutral beige "as an accent color for the drapes to soften it." Jordan's master bedroom did double duty in the film—it also got flipped as her home office.
Given Jordan's wealth, it's no surprise that each room is decked out with high-end furniture and decor. The modern kitchen features Miele appliances, Le Creuset pots, Alessi trays and silverware, and an Illy espresso machine. In the living room, Burns decorated it with a sand-colored sectional sofa and two Italian shelter arm swivel club chairs from Restoration Hardware, as well as an oversized square carrera marble coffee table from Cantoni and two polished nickel etageresfrom Mitchell Gold + Bob Williams.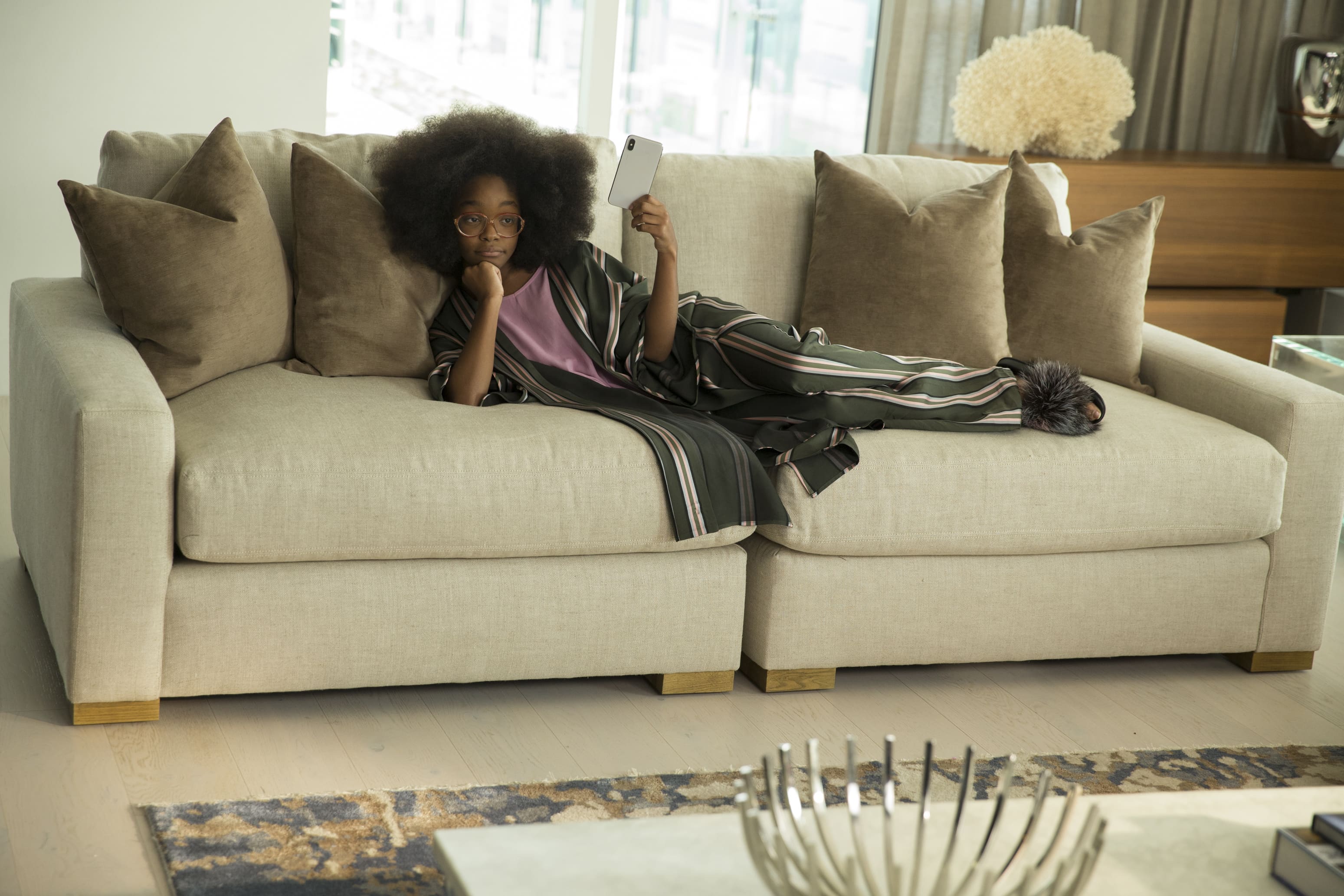 Even the extensive rooftop patio area with a sweeping view of the city gets the luxe treatment. Burns furnished the outdoor deck with a Zuo Albany daybed and A-cero freestanding wing lamps from Vondom, which gets a bit of action during a scene in which Jordan's boy toy pays a visit and does a little dance number. Additional patio furniture was sourced from Dedon and Steelcase.
According to Burns, it was important to make Jordan's residence "more elevated for aspirational purposes" and show her creative and artistic side. The latter was emphasized with all the artwork accessorized throughout her apartment.
Her art collection was "trying to say that Jordan is a visual person from being in the tech world," notes Burns. "Her appreciation for art was a big deal and that was one of the requests from the director that I enhanced." A prominent piece seen in Jordan's living room is a colorful portrait of herself lounging on a sofa, which Brooklyn-based visual artist Shyama Golden was able to recreate based on an image from a photo shoot.
Burns showcased original artwork from artists Eric Mack, Yu-Kai Linn, and Kenesha Sneed, whose prints are featured in Jordan's home office, too.
Jordan's assistant, on the other hand, lives a less lavish life. For April's space, which was built in a warehouse space called Paris on Ponce, Burns points out that he went for a more "bohemian chic" vibe.
"The set decorator [Javed Noorullah] went around consignment stores and flea market spaces to bring in pieces, from the cushions to the chairs," says Burns, who built April's platform bed on shipping wood box crates and styled a Moroccan-inspired screen as the headboard.
Burns adds that different type of fabrics, like Indian saris, were used for the window treatments. Various plants spruced up the apartment and gave a "feeling of warmth and texture," he says. Burns also covered April's space with art, including black-and-white images by New York photographer Autumn Hill.
Burns states that the location "was a ground floor unit, but we were able to bring in architecture to set up the space." He added skylights, brought a platform to raise the kitchen area and incorporated the site's existing columns to zone off April's meditation space in the center of her living room. Notes Burns, "I tried to use her space as being more organic with her character."