by Sarah Grossbart, E! Online
Fifteen years after Vince Vaughn and his film brought Jennifer Aniston "back to life," as she put it, cinematographer Eric Alan Edwards and production designer Andrew Laws relive the magic with E!.
You gotta admire the chutzpah. 
Because in 2005, when Jennifer Aniston was navigating what may have been the most widely dissected split of all time, the hysteria surrounding her divorce from Brad Pitt perhaps only rivaled by Princess Diana and Prince Charles' split, Vince Vaughn sent over a script for a film he'd been working on called The Break-Up. 
When developing the screenplay for the dramedy about a couple navigating the end of their relationship and subsequent custody battle over their prized Chicago condo, "she was the only actor that I had in mind," Vaughn explained to reporters ahead of the movie's June 2, 2006, release, "because she's so good with comedy and she's also a very good actor and she has a quality to her that just, inherently she's very likable, there's a warmth to Jennifer. These characters are both very flawed, so it's important to have that." 
Which, sure, Aniston had just spent a decade showing people what a great friend she was. And public affection for her had certainly never been higher. But, also, The Break-Up?!?
"When it came along, you can't help but think, 'Really, The Break-Up? Is that actually going to happen?'" Aniston admitted. "And then I read it and I just went, well this is something I would be so interested to do because it's not just a trite sort of romantic comedy about a breakup."
Grossing $205 million, the true-to-life anti-rom-com, devoid of the expected, trite ending, netted Aniston a People's Choice Award, a new romance with Vaughn and the chance to heal her bruised heart, the actress later revealing on Inside the Actors Studio that the experience helped her "turn the page" on her marriage to Pitt.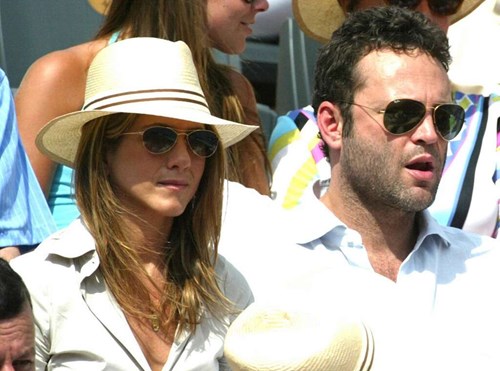 In a sit-down with Elle just after filming wrapped in 2005, she raved, "This movie was fate. To be able to walk through a movie called The Break-Up, about a person going through a breakup, while I'm actually going through a breakup?! How did that happen?! It's been cathartic."
Ultimately, the shoot "turned something into a fantastic experience," she continued. "Not that divorce is fantastic, but I've never had more fun in a creative process."
That was a hard same from the crew as well.
Between Vaughn filling the call sheet with his closest friends and the months-long Chicago shoot lending a summer camp-like feel to the whole project, "There was a lot of camaraderie," production designer Andrew Laws told E! News.
In fact, he admitted, of the more than two dozen credits on his resume, few are quite as close to his heart. "It was an enjoyable work experience," Laws shared, revealing he and director Peyton Reed remain "really good friends." Plus, he spent stretches of his down time in the Windy City romancing the woman who would become his wife: "All the pieces of the puzzle on that one came together really well." (Not to mention watching Vaughn and buddy Jon Favreau improv for hours isn't a bad day's work.)
So to celebrate the flick's 15th anniversary, Laws and cinematographer Eric Edwards spoke to E! News about how everything clicked into place.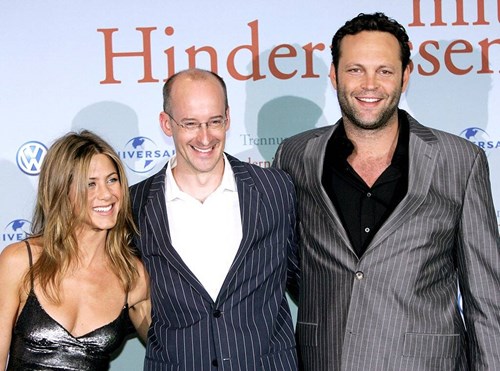 1. Producer, writer and eventual star Vince Vaughn lifted inspiration for his film from a surprising place. "I love the movie The Odd Couple," the actor told reporters of the 1968 buddy comedy about the unlikeliest of roommates. And, as he got older, the then-36-year-old explained, "I realized a lot of people were sort of buying places together because they didn't want to just spend money on rent. They wanted to have ownership and get much more kind of savvy with making their money work for them."
And much like unraveling couple Gary (Vaughn) and Brooke (Jennifer Aniston), he continued, "I had some friends who ended up in that position, where they no longer wanted to date the other person and were not married, but no one could afford the place on their own, so it seems kind of modern in that."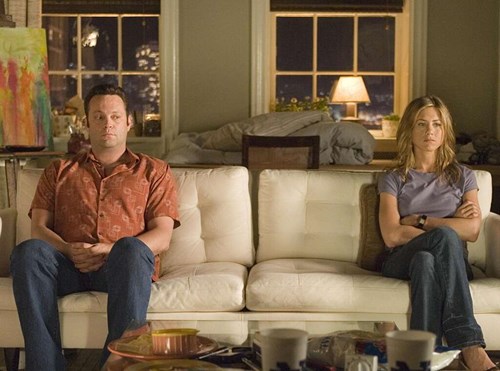 2. As for the fights themselves, over washing dishes, playing video games, not listening, etc., etc., "it wasn't so much based in particularly any sort of one relationship I had, but there's elements of relationships that I had," said Vaughn. "I thought that there was stuff that was very universal about not remembering to bring home 12 lemons and having the argument be about the lemons, but really the argument being about so much more than the lemons, but that just sort of being the vehicle to discuss stuff."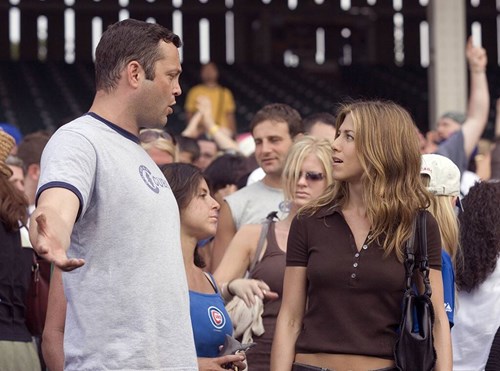 3. With Vaughn having hand-picked the newly single Friends alum—then reeling from the Brangelina of it all—to be the Brooke to his Gary, rumors of a love connection began pretty much the moment she arrived to her suite at Chicago's Peninsula hotel.
And the costars shot them down just as fast. In her September 2005 Vanity Fair cover (the "There's a sensitivity chip that's missing" article), Aniston insisted, "I adore Vince Vaughn, but I'm not going out with Vince Vaughn. I barely know the guy. We've exchanged a wine-and-cheese basket for the start of the movie, and we've gone out to dinner with the director and other people. We've got to get to know each other."
A month later, after the duo were seen "straight making out," as one onlooker put it, at a Dwight Yoakam concert, Aniston doubled down. "Vince is my friend," she told Elle. "I adore him. He's delicious and funny. He's got all the colors of the rainbow. But I don't want to be a rebound girl. I feel like it will happen when it happens."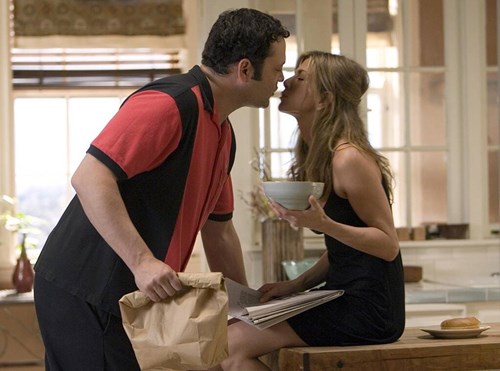 4. Of course it did happen, which was hardly surprising considering the way the two spoke about each other. "From that first day when we did a read through of the script, I trusted him," Aniston told The Virginian-Pilot of her instant rapport with Vaughn. "Plus, he's very funny."
The relationship, both onscreen and off, was a natural fit. "The thing with Jen is, she's so easy to feel drawn to," Vaughn told Elle. "She's so genuine and warm, and she has a lightness, a classy ease about it all. You can see why people are so enamored. It's like she's stuffed with Elvis dust. Little kids see her and they don't know she's famous, and they just gravitate to her, they hang on her." 
Unsurprisingly, "their chemistry was amazing," noted cinematographer Eric Edwards. "They got along royally, I think."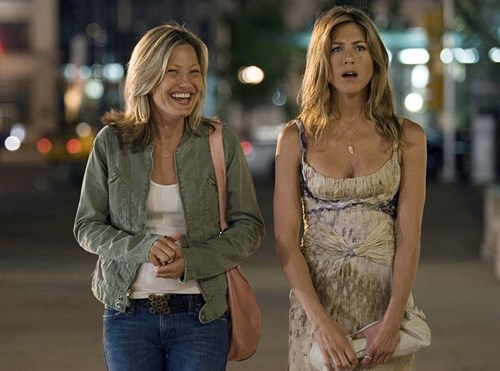 5. Hearing that Aniston had managed to move past her Brad Pitt-related despair, paparazzi were relentless in trying to get photos of her with Vaughn. They were "everywhere," marveled production designer Andrew Laws, currently working on Netflix's fantasy series The Witcher: Blood Origin. "When we were in Millennium Park, we were finding guys, like, you'd step on them in the bushes. They were just lying in the planters with their cameras trying to snap things. It was astonishing."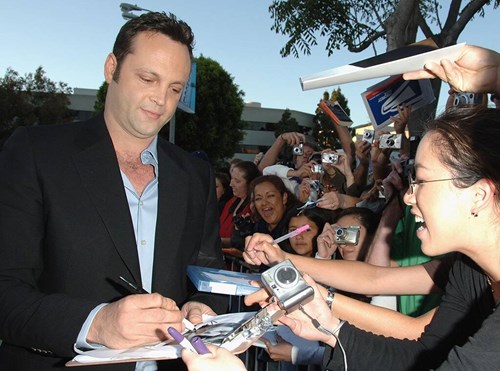 6. While Aniston was obviously quite the draw for photographers and fans alike ("She was just a sweetheart," said Edwards, who teamed up with her again for 2008's Management, 2009's Love Happens and the short film she directed in 2011's Five), Vaughn was something of a hometown hero.
"We would go on these location scouts and Vince was recognized by everybody in Chicago," Edwards said of the actor, who grew up some 30 miles north in Lake Forest, Ill. "We would be on Michigan Avenue and people would just call out to him and he loved it, he loved it. He basked in it a bit."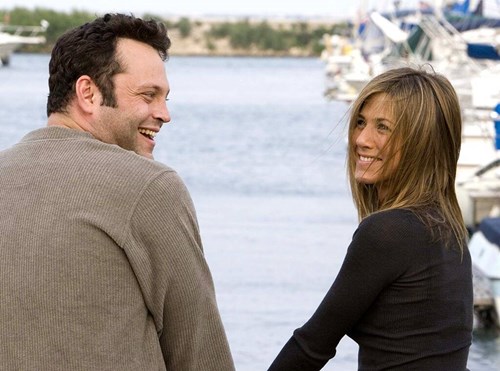 7. Ultimately, Aniston credited her subsequent relationship with Vaughn for healing her heartbreak. "I call Vince my defibrillator," she told Vogue in late 2008, two years after their romance ended. "He literally brought me back to life. My first gasp of air was a big laugh! It was great. I love him. He's a bull in a china shop. He was lovely and fun and perfect for the time we had together. And I needed that. And it sort of ran its course."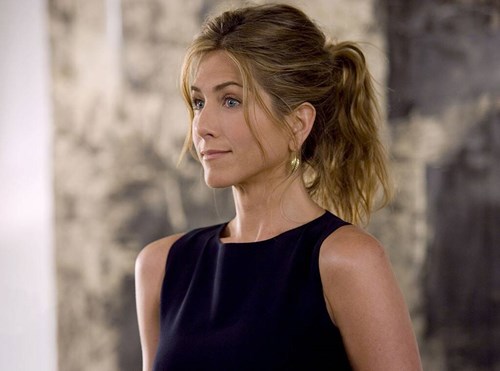 8. Theirs wasn't the only continuing relationship. When production designer Laws turned up on the Chicago set, Aniston approached him, he recalled, "and she kinda said, 'It does feel a little bit like we're following each other around.'"
Which, she wasn't wrong. "I had done another film with Jennifer in L.A., Hawaii and New York with John Hamburg called Along Came Polly. And then I moved back to London and ended up doing a film with Jennifer in London and Chicago, called Derailed," he explained. "And then shortly after that, ended up in Chicago with Jennifer again doing The Break-Up." They'd meet up again in 2016 for Office Christmas Party.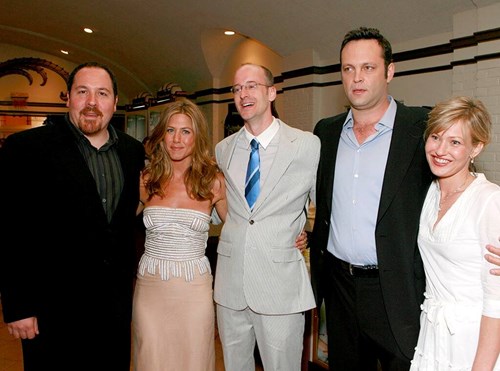 9. Really, the entire cast and crew felt pretty familiar with one another, Vaughn having reached out to a lot of friends to fill out the call sheet. "I was able to call people that I had relationships with that were great actors and actresses that were willing to say yes to being in the movie," he explained in a joint Moviefone interview with pal Jon Favreau (cast as Gary's buddy Johnny).
And a kick-off karaoke party (held at the bowling alley used in the film) went a long way toward bonding everyone else. As Laws put it, "That sort of set a tone for the fun bar."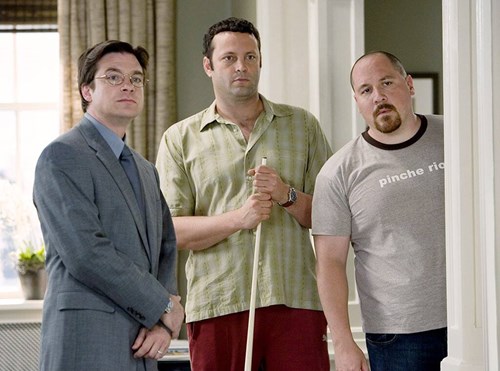 10. Naturally, with any cast that includes Vaughn and Favreau there was so. Much. Improv. "I think it's a better movie where people are allowed to collaborate and everyone's allowed to sort of express ideas," Vaughn explained in an interview for themovieguy.com. "I'd say more than 50 percent of the scenes with me and Jon are improvised. And I always feel good working with Jon because he's so funny, he's such a good writer." He and Favreau actually captured their heart-to-hearts in one day, he continued. "We just set up two cameras and just went after it."
It was a fairly common practice, noted cinematographer Edwards, "because so often they were not going to do it the same way the second time, you know, so we really had to kind of capture the coverage all at once."
Aniston got in on the fun as well. "We had a ball. We had such a good time," she gushed to film critic Andrea Vecchio. "And it was easy. I felt excited. I wasn't scared of it. We got to just go, it's like working with a pro, a tennis pro or whatever."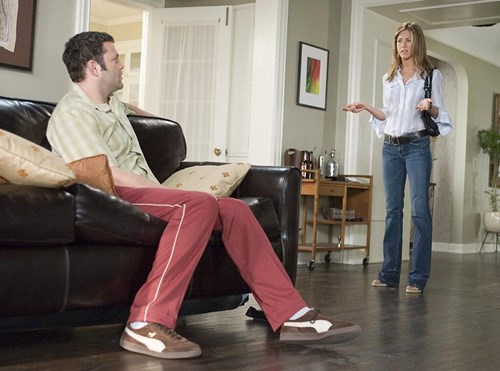 11. Brooke and Gary's condo was totally worth fighting over. When researching real estate in Chicago, Laws discovered that in a lot of the waterfront buildings, wealthier tenants bought bedrooms off of adjoining units. So, "the primary living space is still the same as it would have been if it were a two-bedroom flat, but it only has one bedroom now," he explained. "And that was sort of the theory, that they found this diamond in the rough."
And "the world's biggest one-bedroom apartment," as he put it, was fully functional. They ran actual air conditioning into the set, "you could turn the lights on through the light switches, the fireplaces worked. When you were in the set, you felt like you were in a very real environment."
Aniston certainly noticed the difference. Years later, when she arrived to the Laws-designed set for Office Christmas Party, "One of the directors walked her through," Laws recalled, "and she said, 'Oh my god, this is such a trip. It's like being in a real environment. I haven't been on a set like this since I did a film awhile ago called The Break-Up.'"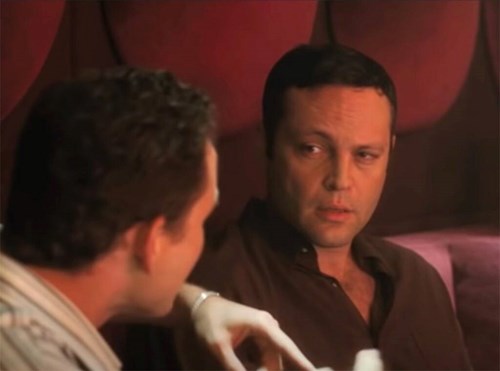 12. Location scouting was an actual party. Though Laws said he spent days driving around with Vaughn and director Peyton Reed ("We would turn down funny streets," he noted, "there was a lot of exploring"), he stumbled upon the nightclub Gary visited when he was off-the-clock.
"It just happened to be a place we had gone to with some of the crew. And I thought, 'Oh, this would be perfect for this,'" Laws recalled. "We're sort of sitting in a corner having a drink going, 'Well, this would work. Let's just do this.'"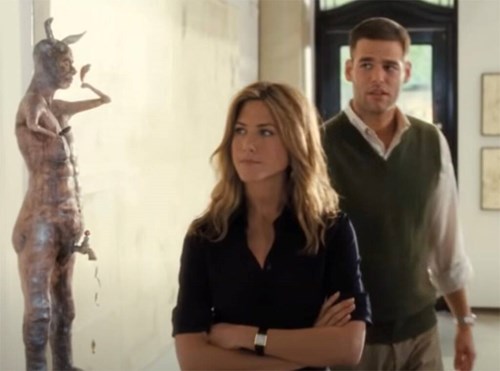 13. One of their sets was so realistic it inadvertently became a tourist attraction. "One of the first days that I was in Chicago, I was walking down the Magnificent Mile and I saw this storefront that was out for lease and thought this is the perfect place for the gallery," shared Laws. "And it was just serendipitous timing that we were able to get ahold of the owners, rented it out and we were able to build that gallery actually into the Magnificent Mile." 
Filling the space with work from local artists, including a three-foot tall sculpture by recent fine arts grad Greta Zakrzewska, "It was really fun," Laws continued, "because we had endless amounts of people coming in to buy art."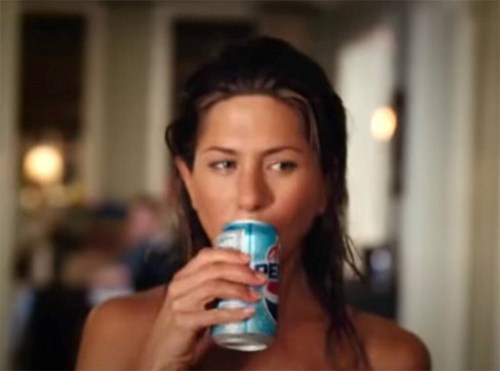 14. That nude scene? Really Jen. "I didn't know that was a choice," she joked when asked if she'd used a body double for Brooke's naked parade around the apartment. "Now I feel abused. Poor girl."
As a bonus, though, she riffed on Good Morning America, "I'm very intimate now with my wardrobe [person] and makeup gal to help with the frontal. I've never taken that long of a walk nude in my own home, so that was a first all the way around."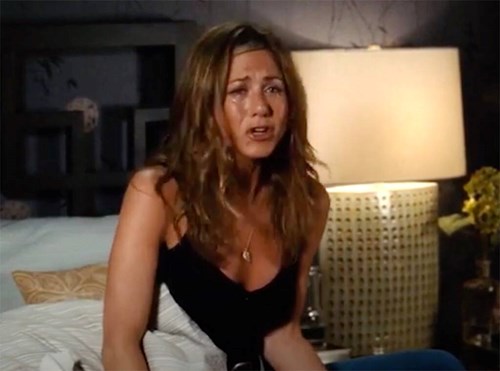 15. Her tears were real as well. Cinematographer Edwards and director Reed came up with a fairly complex camera-on-a-dolly system to capture Brooke and Gary's argument after he stands her up at the Old 97's concert. What would have normally required four different set-ups, they completed in two, giving Aniston the ability to truly pour her heart into the scene.
"We were able to kind of choreograph a lot of moments where they were kind of elaborate," Edwards explained, "because, you know, we were only going to get Jennifer crying once, really, like that." Though, being uncomfortably familiar with the material, she was able to nail scene after scene, said Edwards: "She always had so much invested in every moment and every argument and every broken heart."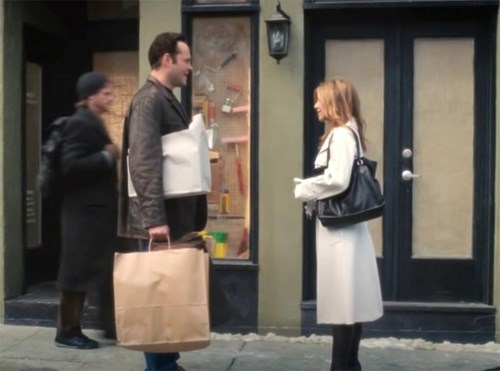 16. They came this close to a happily ever after. "We shot two endings," Edwards revealed, the first taking place in a Chicago park "and it was a happy ending, it was just a different ending." 
But it didn't strike quite the note they were hoping for. "It just didn't ring well," said Edwards, currently working on a book of photographs of longtime pal Gus Van Sant. So they reassembled at the Universal lot in Los Angeles for the version that eventually made it onscreen. "I'm glad they didn't kiss and make up at the end," he continued. "It's just not true to the movie."