by Rose Minutaglio, Elle
The new HBO Max series Hacks centers on two comediennes across the generational divide: Deborah (Jean Smart), a Joan Rivers-esque stand-up with a QVC contract, and Ava (Hannah Einbinder), a twentysomething TV writer who loses her job after a misguided tweet.
The women form an unlikely alliance in Las Vegas, where Deborah has a long-standing residency at a casino. Hilarity, heartbreak, and one very strange stint at a plastic surgery center ensue. Not only are the showrunners being lauded for the show's ingenuity, but Smart is already generating awards-season buzz for her leading role.
Give Hacks a gold medal and more—it really is that good. But I'm here to talk about a part of the show that hasn't garnered nearly enough attention: the fashion.
As Deborah, Smart lounges poolside in silky caftans, and sips champagne before shows in velvet robes. She dresses up in sequined pantsuits, and dazzles audiences both with jokes and her rhinestone-studded Jimmy Choos. Her style is overstated, but casually elegant. I like to think the late Fashion Police host would be proud.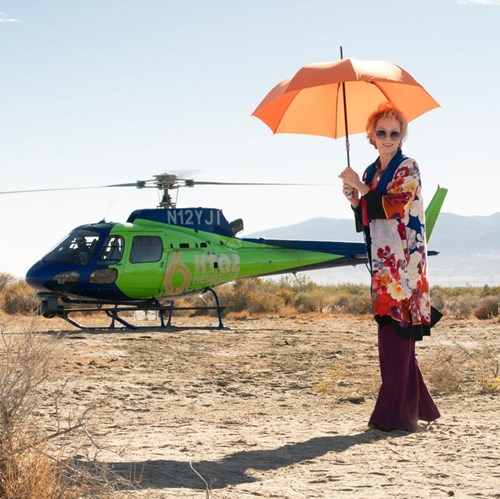 It's hard to pick just one favorite fashion moment from Hacks, but a standout comes mid-season when Deborah's Rolls Royce breaks down on the way home from a trip to hunt down an antique pepper shaker. While waiting on a rescue, she seeks shade from the afternoon desert sun under a creamsicle-colored parasol.
After a year spent hibernating at home in sweatpants and oversized hoodies, seeing the return of over-the-top accoutrements on the small screen is fun. Sure, you can rock crop-tops and cut-offs this summer—but why not beat the heat beneath a colorful umbrella?