by Sam Manzella, NewNowNext
"There's a certain way Kristen just puts on pair of pants," says costume designer Kathleen Felix-Hager.
Styling the cast of 2020's most hotly anticipated holiday movie was no easy feat, but Kathleen Felix-Hager approached the task like a total pro. The costume designer, whose credits include popular series like Space Force and Veep, was tapped by out actress-director Clea DuVall to outfit the stars of Happiest Season—including fellow out actress Kristen Stewart.
Speaking to NewNowNext on the set of Happiest Season in Pittsburgh, Pennsylvania, just before the cast and crew wrapped filming in February, Felix-Hager described Stewart as "instrumental" in conceptualizing Abby, her onscreen alter ego. DuVall, who directed and co-wrote Happiest Season, also had a hands-on role.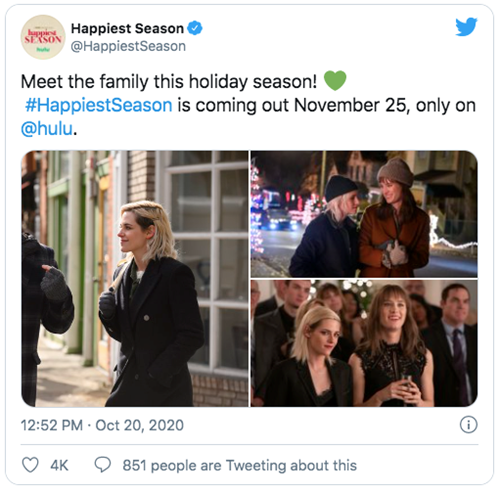 As NewNowNext previously reported, the holiday-themed rom-com follows girlfriends Abby and Harper (played by Black Mirror "San Junipero" star Mackenzie Davis). After going home for holidays with Harper to meet her GF's family, Abby is shocked to learn that Harper isn't out to her parents.
"Abby wants [Harper's] parents to accept her, so she's a very cleaned-up version of herself," Felix-Hager explained. "She's still authentic to herself because she really doesn't know what she's walking into until she gets there. Even when she's in the car on the way there, she has no idea. So she is who she is. … She knows what the chain of events [will be], but she does not know what she's walking into."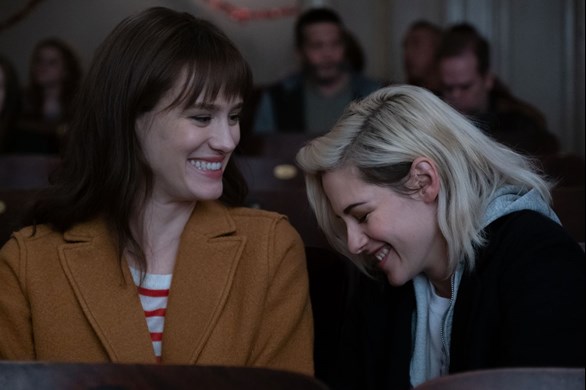 Felix-Hager said Abby's look is the cool-toned, "a little hip-er" counterpart to Harper's vintage-inspired, texture-heavy style. Asked if she drew inspiration from Stewart's real-life style, the stylist said Stewart was "playing a character," not herself.
"But there's a certain… Just the physicality that Kristen brings to her character, and there's a certain way she just puts on a pair of pants and she just stands in a certain way—that's just very amazing," she added, to laughter from everyone in the room. "We definitely leaned into that part, so that was fun."
Happiest Season is out now Hulu.