by Sarah Wasilak, Popsugar
Kristen Stewart and Dan Levy Leave Us With All the Winter-Coat Envy in Their New Film
Hulu's new original holiday movie Happiest Season stars Kristen Stewart, Mackenzie Davis, and Schitt's Creek's one and only Dan Levy. The Clea DuVall-directed film's storyline is so real that it's obvious we've been missing it from our ranks of historic seasonal favorites — Christmas With the Kranks, Home Alone, The Holiday, Love Actually, and the list goes on. Kristen plays Abby, who goes home to meet her girlfriend Harper's family, only to discover that they don't know she's gay — or that Abby is more than just her roommate. Abby promptly panics and calls her best friend, John — played by Dan — and the narrative unfolds from there. It's relatable like the characters' outfits are relatable, all brought to life by costume designer Kathleen Felix-Hager, who confirmed that just because fashion is not the movie's focus doesn't mean it isn't hugely important.
"[Clea DuVall] had a very specific vision for all of the characters and we worked closely together to create the looks," Kathleen told me. "Each character had a color palette and a silhouette that we adhered to. It was very important to keep the characters feeling like real, authentic people and to keep the costumes as classic as possible, since Christmas films live on forever." It's true that this is one holiday film that will definitely remain relevant, and Kathleen's right in that there will never be a time when the winter coats and holiday outfits here do not feel timely. In fact, the outerwear — from plaid coats and dinner jackets to bombers and beanies — is arguably the best part of the movie.
"Outerwear was super important — one because it's Christmas and it's freezing and also because it helps to define the characters," Kathleen said. Every coat does, in a subtle way, help to distinguish personality traits in the film. We see that most with Harper, who has a strong sense of self when she's alone with Abby before they get to her parents' house. But when we see her swap her sophisticated camel coat for a flannel throw-over that she probably pulled out of a childhood bedroom drawer, she is withdrawing from her relationship to be the person her parents have assumed her to be.
Kathleen enjoyed working with the entire cast, which also includes Aubrey Plaza, Alison Brie, and Step Brothers's Mary Steenburgen, but really loved collaborating with Kristen Stewart, whose Christmas dinner party outfit is reminiscent of tailored pantsuits from the star's iconic red carpet looks past. "She is really smart and has great instincts regarding her character. . . . Kristen and I went shopping together one weekend and had a blast!" Kathleen said.
Ahead, Kathleen was kind enough to break down the coat closet and fill us in on all the winter outerwear you won't just appreciate during the movie, but admire enough to shop and wear forever. Because like we said, this holiday rom-com deserves a spot in your top five, now and always.
Happiest Season will be available to stream on Hulu starting Nov. 25.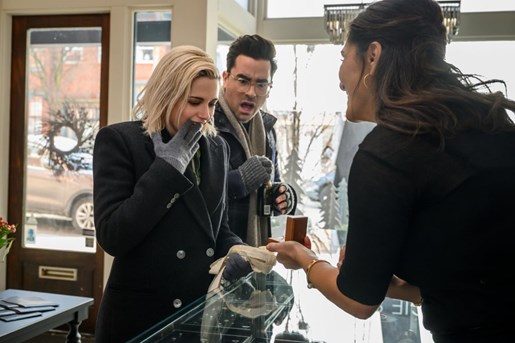 Abby's Peacoat
"This dark-gray Theory peacoat was originally a long length, but we shortened it to hip length, which was a better proportion for Kristen, who is quite petite," Kathleen said.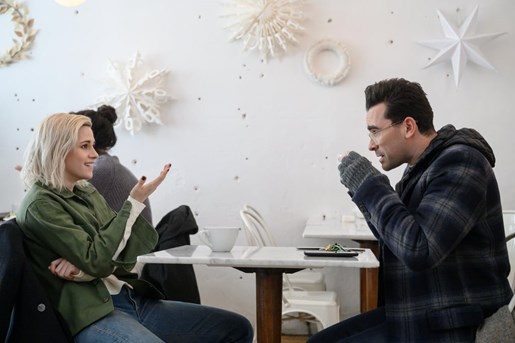 Abby's Army-Green Jacket
Abby wears this vintage army-green jacket underneath her Theory coat while grabbing coffee with John. "The idea is that Abby has well-loved pieces that she wears over and over," Kathleen said.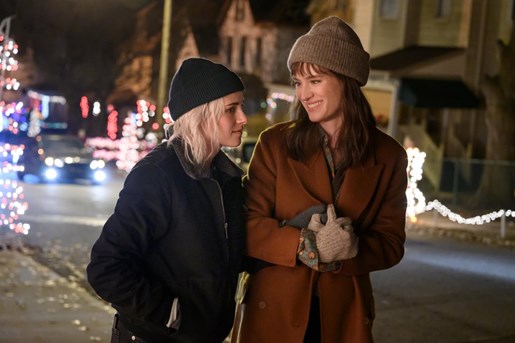 Abby's Bomber Jacket
In the first scene of the film, we see Abby and Harper checking out holiday lights, both equipped with their beanies. Abby's bomber is a Carhartt jacket with a shearling collar.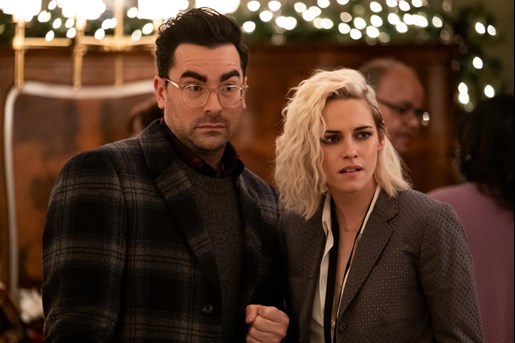 Abby's Christmas Blazer
"The Christmas party look for Abby is my fave! The jacket is vintage Thom Browne," Kathleen told POPSUGAR. "She wears it with slouchy black pants and a great pair of heeled oxfords with sheer socks. The ribbon tie she wears was just a random piece of velvet I had during the fitting that we literally cut to the right length and draped as a necklace, but I think it looks so chic and cool."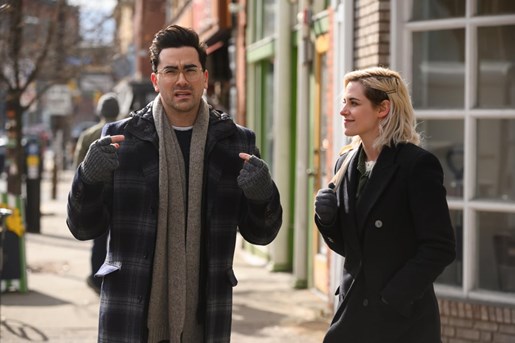 John's Plaid Coat
John wears this wool Scotch and Soda plaid coat throughout the film, which Dan really happened to like. "The idea was to keep him a bit rugged and polar opposite of [Dan's] character on Schitt's Creek. He really liked his costumes and that thrilled me, because I know how important costumes are to him," Kathleen said. And those great glasses he wears? They're all from his personal collection!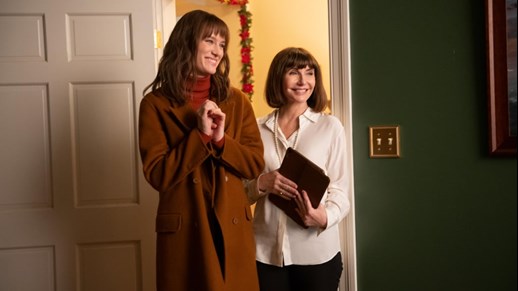 Harper's Long Camel Coat
Harper's long camel coat by Sandro sets the tone for her color palette, which tends toward neutrals throughout the film.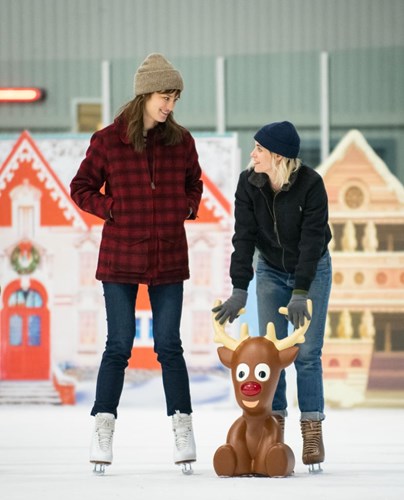 Harper's Red Plaid Jacket
"The plaid coat [Harper] wears during the skating scene is by L.L.Bean — the thought being that it is a coat she had as a teen and still has at her parents' house," Kathleen said. "It helps to illustrate the idea that when Harper goes home, she regresses a bit and starts to hide her authentic self."