by Rebecca Ford, The Hollywood Reporter 
The pros on 'Avenue 5' and 'For All Mankind' also talk about how they mixed authenticity with innovation to craft looks for their characters, from space cruise passengers to aspiring astronauts.
'Star Trek: Picard'
Christine Bieselin Clark
Bieselin Clark did her homework before beginning work on the CBS All Access Star Trek series because she wasn't that familiar with the vast franchise. And then she was determined to change it up. "This was such a different point of view for Star Trek with the way that they were approaching the storytelling," she says. "That is reflected in our costuming choices being a lot more grounded." For Jean-Luc Picard (Patrick Stewart, above), his journey begins as he's living in retirement at his chateau. "We wanted to make sure that that first episode felt warm and that the color palette was autumnal and charming," she says. "And I couldn't get away from using the captain [uniform]'s Bordeaux color for that sweater, which was the connective tissue to the Picard we know." Later, as the story moves to space and onto the Borg cube, the costumes become "utilitarian and purposeful but also slightly clinical." As with Dahj Asha (Isa Briones, below), Bieselin Clark picked out "jumpsuits, coveralls, for that utilitarian vibe — then elevated it slightly in its sophistication so that we give those researchers and the doctors on the cube some sort of feeling of being respected in the work that they do."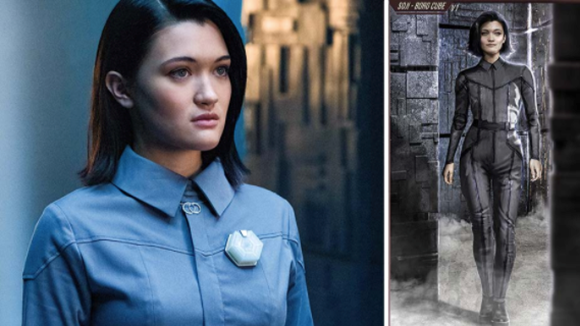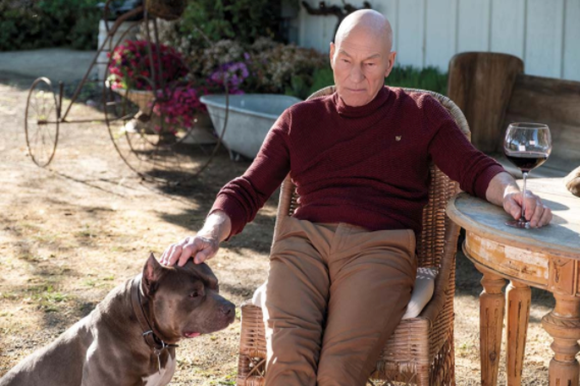 'Space Force'
When Felix-Hager first met with co-creator Greg Daniels, he described his new Netflix series as "just this little workplace comedy set in the new sixth branch of the government." But later, when she found out that the satire would cover the U.S. military's efforts to protect space, "I panicked a little. The show was really ambitious. The biggest challenge was to come up with the new military uniforms." She researched past uniforms of all branches of the government and consulted with a military technical adviser. "I had to make the uniforms real and also make them funny," says Felix-Hager, who reveals that the moon camouflage print (as pictured on co-creator Steve Carell's General Mark Naird), became her jumping-off point. "We printed the fabric and used a real [military] uniform pattern," she says. "It just gives an edge of realness to it while also being ridiculously crazy." Felix-Hager says she's especially proud of the accuracy of the uniforms, despite the irreverence. "When the first picture came out of Steve in his uniform, several people from the military said they were very impressed that it was correct," she says. "That was very meaningful."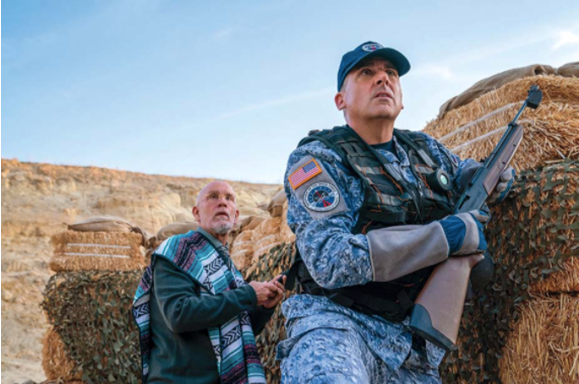 'Avenue 5'
Suzie Harman
The HBO comedy, about a space cruise ship that veers off course, is set 40 years in the future, but creator Armando Iannucci told Harman he didn't want the fashion to be too out-of-this-world. "Forty, 50 years ago, we still wore jeans," says Harman. "Our clothing hasn't changed hugely — a bit of cuts and style and things have, but the essence of clothes hasn't changed." So Harman thought about what different age groups would wear aboard a cruise ship. For the younger crowd, she focused on high-end and luxury sportswear. "Because if you're on a cruise ship, what do you take? You take your casual wear, a bit of sportswear, and you take your party outfit," she says. "And you have your Hawaiian shirt. I don't think things like that change that quickly." She also had to create costumes for the crew of the ship, and its leader, Captain Ryan Clark (played by Hugh Laurie). Iannucci wanted to keep the garb quite minimal and somewhat modeled after uniforms in the 1950s. For Laurie's look, Harman says she was in part inspired by "Sean Connery in The Hunt for Red October, and I think Hugh really liked that."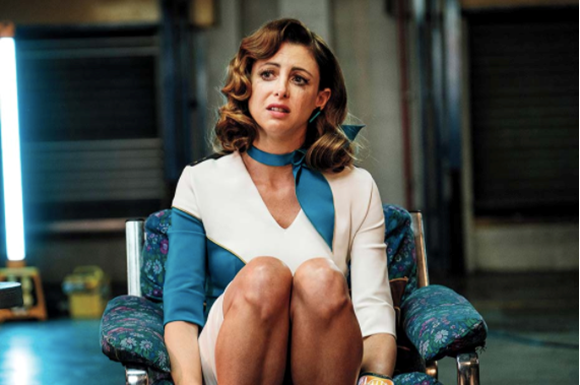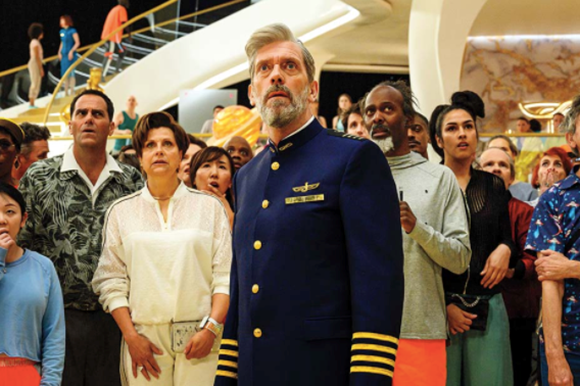 'For All Mankind'
Jill M. Ohanneson
The Apple TV+ series is set in the late 1960s — but in an alternate reality where the Soviet Union has beaten the U.S. to the moon. Despite that twist on history, Ohanneson says that when it came to the costumes, the focus from the start was to create "a real, authentic base, which was the lens through which all these new changes were happening." So she dug into researching NASA's suits and uniforms and found that the organization had put most of its archives online, which was "incredibly helpful." She discovered that there was a very short period of time when NASA dressed its aspiring astronauts in light blue jumpsuits for training, and that time period happened to align perfectly with the show. "I looked around but could not find any of the actual ones. But I was able to find something that was a similar design," she says. "I found comparable fabric, and we basically made it from scratch for all our actors, from our principals to our extras — and particularly our female group of astronauts." The story focuses in part on a group of astronauts who are each hoping to be the first woman in space, which was a highlight for Ohanneson: "It was really important for me that they each had their own look, that you got the feeling that these women were from different backgrounds."