by Paul Tassi, Forbes
Don't let the return of The Umbrella Academy or the A-listers of Project Power distract you from the best recent arrival on Netflix this month, and possibly, one of the best of this entire year.
That would be Teenage Bounty Hunters, a show that from the name, may sound like it isn't up your alley, though it's original, banned title, "Slutty Teenage Bounty Hunters" may have drawn more attention (the wrong kind, people believed, hence the change).
But the end result is a series that is absolutely one of the best new debut original series on Netflix in 2020, better than Cursed, Warrior Nun, Outer Banks and a bunch of other series that have gone up and down the top ten the last eight months.
Teenage Bounty Hunters follows two twins, Blair and Sterling, living in white, rich suburban Georgia while going to a hyper-conservative Christian high school at odds with their developing sexuality. The series opens with one twin losing her virginity to her longterm boyfriend in a car as her other twin performs a sex act on her own boyfriend in an adjacent vehicle, but despite this raunchy start, Teenage Bounty Hunters is a really sweet, charming, enjoyable, well-written, brilliantly acted show.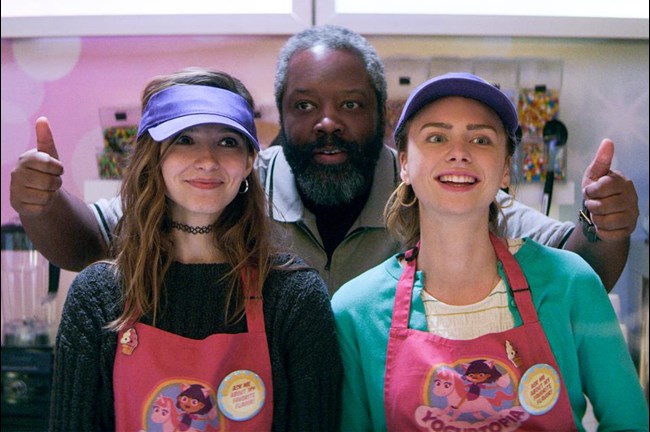 The "bounty hunters" angle comes in when the twins accidentally crash their truck into a fleeing "skip" being chased by Bowser, an actual bounty hunter. They pretend they themselves are just young-looking bounty hunters when they realized there's a big reward at hand, and the rest of the series has them working in tandem with Bowser catching bad guys as their after school activity, hiding it from their parents, who also end up having their fair share of secrets.
Reading this, I can understand how it still may not sound interesting, but trust me, it's a very engaging series. The vibe reminds me a bit of Insatiable, the now-cancelled Netflix series, but…much better. Showrunner Kathleen Jordan has graduated from a Lifetime series, American Princess, to something genuinely fantastic here, and without question, it deserves multiple seasons going forward.
Far and away the biggest reason for the show's success are the dual performances of twins Blair and Sterling, played by Anjelica Bette Fellini and Maddie Phillips respectively. The comedic and dramatic chops both girls have, and most importantly, their chemistry with each other is unlike anything I've seen in most series, and they are fantastic in these roles. Hopefully this show will continue on for a while, but if not, both them deserve to be breakout stars in their own right. I have not been struck by a pair of performances like this in a long time.
If I had any criticisms of the show, it's that the bounty hunter angle actually seems like the least interesting part of the series as it presses on, and more of a distraction from the more interesting high school relationships and parental secrets that make up the meat of the show. Bowser's side stories just aren't as engaging as what we see from Blair and Sterling, though the series is at its best when all three are together. I just hope they do more with the actual bounty hunting bit as the series progresses, as by the end, it almost feels like an afterthought.
Between great performances, writing and twists and turns I genuinely did not see coming, Teenage Bounty Hunters is the best ten episodes I've spent with Netflix in a while. And yes, it's easily one of Netflix's best new shows in the cursed year of 2020, and I hope we see more of it to come.
Editor: Amy Fleming
1st Assistant Director: Anna Notaridas