by Samantha Dillard, American Society of Cinematographers 
Society offers a way for the public to view and enjoy members' still photography exhibit despite Clubhouse closure.
Due to the ongoing ASC Clubhouse closure, the Society postponed the physical presentation of the Spring 2020 Photo Gallery exhibition, originally scheduled to debut on March 28. 
This collection of 43 images features the work of ASC members Oliver Bokelberg, Antonio Calvache, Richard Crudo, David Darby,  Darren Genet, Dana Gonzales, Gregg Heschong, Ernie Holzman, Dan Laustsen, Charlie Lieberman, John Lindley, M. David Mullen, James Neihouse, Phedon Papamichael, Steven Poster, Paul Ryan, John Simmons, Eric Steelberg and Mandy Walker. 
This is also the first Photo Gallery collection to feature the work of ASC associate members, represented by Seth Emmons, Andy Romanoff and Dana Ross.
The exhibition was curated by Paris Chong, manager of the Leica Gallery Los Angeles, and each participant has between one and three photographs on view.
Through an effort to continue engagement with the community, the Society is pleased to introduce the Virtual Photo Gallery, which showcases all 43 the photographs from the Spring 2020 exhibition.
The ASC Photo Gallery launched in 2017 with the intention of showcasing other visual work of the some of the top cinematographers in the world. "Many working cinematographers started in still photography, which is true of me and many members who are showing in the Gallery," says Lieberman. 
Still photography, he adds, "is another artistic expression of creativity for cinematographers. We are constant creators of images. Even when not busy working on a show, we go out and keep making beautiful images in our spare time." 
The ASC Photo Gallery is an extension of this, Lieberman says. "The exhibitions are a great way to showcase that the expression of artistry and creativity is somewhat boundless. Many of us can't help but do it. It's an automatic reflex that we capture some form of beauty when we see it."
The Society plans to reschedule the physical presentation of the ASC Photo Gallery at the Clubhouse when possible. Until then, Lieberman proposes, "please enjoy the pictures." 
Here is the conversation between Chong and Photo Gallery Committee chair Charlie Lieberman, ASC concerning one image from each contributing photographer, complete with their respective backstories on the work.
---
Below is the conversation between Charlie Lieberman and Paris Chong, discussing Gregg Heschong, ASC's work.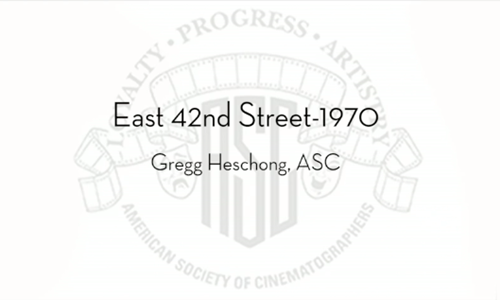 Lieberman: Next is Gregg Heschong, ASC. Gregg's story behind the story is this: "What immediately caught my attention was the body language of this man and woman and possibly, multiple interpretations of the unheard conversation. Their posture mid-trees and buildings instinctively move me to the vertical composition along with my affection for vanishing points. That and framing the couple just far enough away so that their image, more than words, suggest of this story.
Chong: I love this photo, I think this is the one I would probably purchase for my home because I love it so much. And it reminds me of the way we work, that's what I saw when I first saw this photo. It looks so New York, Central Park, and it looks like two people in love. I think this is a great shot, I love this photo Gregg, good job!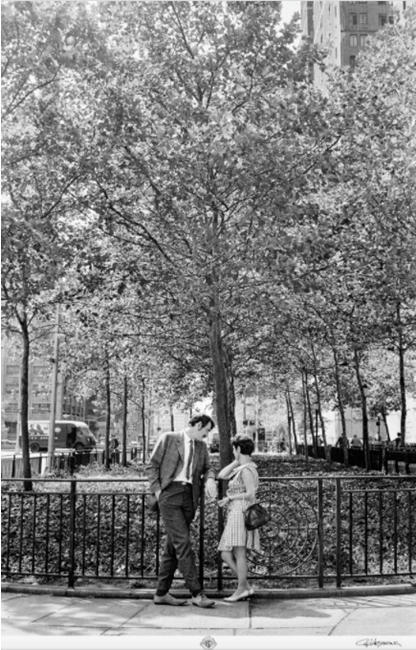 ---
Large-format museum-quality prints and custom portfolios of images from previous ASC Photo Gallery exhibits can be purchased from the ASC Store here.