by Sarah Wasilak, POPSUGAR
Emma Roberts stars as Sloane in Netflix's new rom-com Holidate, alongside Luke Bracey, who plays love interest Jackson. Even though the duo decide to keep things strictly business — they essentially hire one another as dates for every holiday in the foreseeable future — Sloane definitely gets dressed up glamorously for moments with Jackson, at least when compared to the worn-in sweats she wears at home. Costume designer Helen Huang, who's also worked on American Horror Story and Ted, spoke to POPSUGAR about shopping for each of Sloane's looks. Remember: there's a whole year's worth of holidays to shop for here, and Sloane and Jackson may or may not have strayed from the major Hallmark dates, finding time to see each other on Earth Day, Mother's Day, and Cinco de Mayo, too.
Even though Sloane appears to be up on the latest trends when it comes to outerwear — she has the perfect oversize, check jacket that looks lived-in and a leopard coat that Emma Roberts was personally obsessed with while on set — a lot of the pieces Sloane's wearing are actually vintage. In fact, Huang is somewhat of a thrifting connoisseur, which basically means that you can get Sloane's look for a fraction of the price if you shop wisely. "I loved collaborating with Emma! We have a shared love of clothing that has a history to it. She was just so excited about all the vintage pieces and vibe it imparted on her character. Where many shy away from clothing that is too quirky or eccentric, Emma was fearless," Helen said.
We not only commend Helen for putting a sustainable practice into use on set, we're also dying to know where all these vintage looks came from and just how involved Emma Roberts was when it came to dressing her character. Spoiler: she totally had a say in the matter, even introducing the costume team to Citizen of Humanity jeans, which you'll see her wear throughout the movie. Read ahead to get details on some of our favorite looks, and see how Helen works her magic.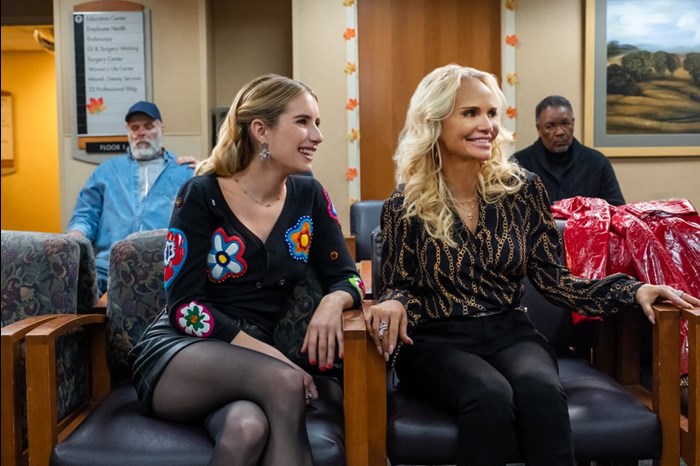 Sloane wears a Moschino sweater, Rnt leather skirt, and Labucq shoes for Thanksgiving.
POPSUGAR: Did Emma have a favorite "holidate" to get dressed for?
Helen Huang: She loved any scene with the leopard coat, but we both really loved her Moschino cardigan at Thanksgiving. Something about it really clicked. Emma and I talked about how Sloane is a character who dresses with a certain irreverence and flair, and I felt like the sweater really expressed that. I also have a huge soft spot for her Earth Day outfit, mostly because we found the daisy top at a random craft fair. I love it when an outfit comes together organically from the most random places, because it just feels so true to life.
PS: Sloane wears such great jackets in the film. Where did you source her coats from?
HH: & Other Stories, Anine Bing, Red Valentino, ALEXACHUNG, and the leopard coat is vintage from Western Costume House!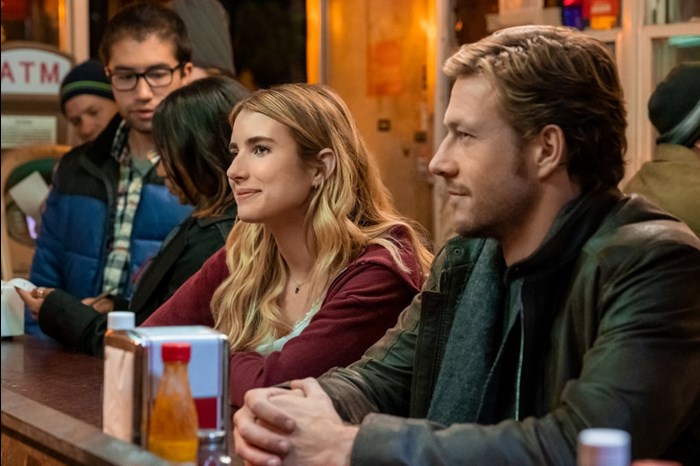 PS: Are there any brands you kept coming back to for some of Sloane's more basic pieces?
HH: Labucq for interesting shoes, Anine Bing for cool but casual pieces, and Bec and Bridge for dresses with a vintage vibe. Villains Vintage is also great for worn-in tees and sweats. It's a wonderfully curated selection that almost feels like a brand — everything is very lived in and real.
PS: How were vintage pieces used throughout the film?
HH: There were so many great vintage finds! Her denim shirt with embroidery came from Foundation Vintage. I saw it on their Instagram page and immediately contacted them. I knew we had to have it. I loved her light-blue band collar tee-dress with cartoon graphics. It's got a funky '70s vibe cartoon blob dude chilling on a swing set with text that says, "Don't Push Me" (obviously in a gloopy '70s font). It's one of my favorites. We also found a great pair of early 2000s Juicy Couture track pants from one of the costume houses that I absolutely loved on her.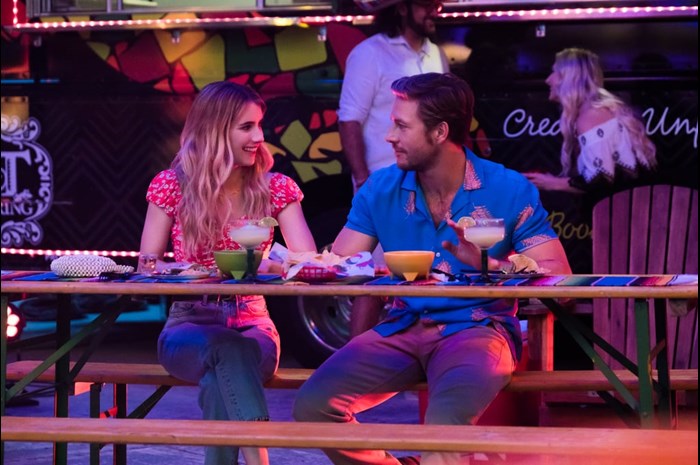 Sloane wears a Zara top and Citizens of Humanity jeans for Cinco de Mayo.
PS: Did you learn anything from Emma while styling the film?
HH: Emma introduced us to Citizens of Humanity jeans. I hadn't actually used them on a movie before, but they really have an ideal fit with authentic vintage vibes.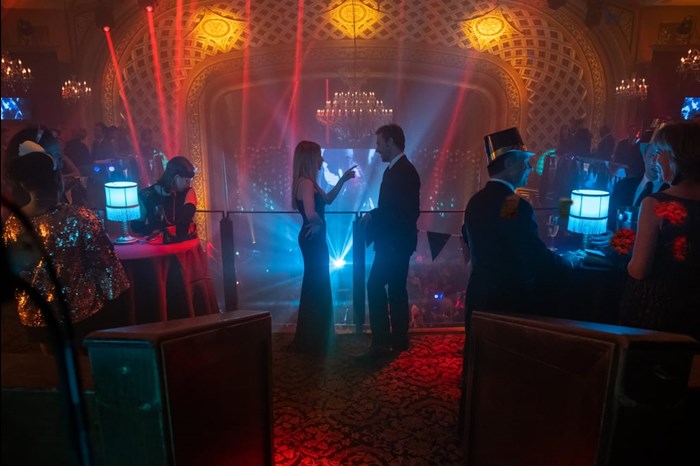 Sloane wears a black Alex Perry dress for New Year's Eve.
PS: Where was Sloane's pirate Halloween costume from?
HH: It's made by Trashy Lingerie. They're iconic in Los Angeles and have an extensive website. They make sexy, fun, tongue-in-cheek costumes. You need to pay an admission to get in.
PS: When in Los Angeles, what vintage stores should we check out?
HH: I love Foundation Vintage, The Goods, Villains Vintage, Recess, Pass It On, Replika, and Raggedy Threads. I also can't speak highly enough of the biannual vintage show A Current Affair. All these vintage vendors from across the country and globe come together under one roof, and it's overwhelming and amazing. I try to remember the vendors I really love and will contact them whenever I do a movie. For online shopping, I love Desert Vintage and Ruby Lane, which has amazing vintage jewelry from any era you could ask for. I buy a lot of Victorian pieces from there.