by Mary Elizabeth Andriotis, House Beautiful 
And how set designers transformed it into a dazzling backdrop.
We can always count on Lady Gaga for undeniably unique modes of expression when it comes to her choices in music, clothing, hair, and everything in between—and her music videos are no exception. One that has stayed with us over the years is the video for "G.U.Y.," released in 2014. The video was filmed at the iconic California estate Hearst Castle, which features not only one, but two magnificent pools — a 104-foot outdoor pool, known as the Neptune Pool, complete with a Greek key design and a marble pavilion, and the Roman Pool, an indoor pool covered in glass tiles that are either colored tiles, or clear tiles that contain fused gold.
House Beautiful spoke to art director Jace Ford and set decorator Logan Noh about the insanely impressive work that went into Hearst Castle's transformation for this video, including a not-so-pleasant anecdote involving poison oak. And no, your eyes are not deceiving you — this video features many Bravo celebrities, including Andy Cohen, Kyle Richards, Yolanda Hadid, Lisa Vanderpump, and her dog, Giggy. It's basically a California fever dream that only Lady Gaga could conjure.
Hearst Castle was built for William Randolph Hearst between 1919 and 1947 in San Simeon, California. Its architectural style is a combination of Mediterannean Revival, Spanish Colonial Revival, and other revival styles from the 1800s and 1900s. Considering the history behind this breathtaking castle, Ford counts working on Lady Gaga's "G.U.Y." music video as "a once in a lifetime experience," and he says that "the word on the street was that the last project to film there was Spartacus and that the only reason we were getting permission to film there was that Lady Gaga had made a generous donation to the tune of $250,000. When I got called to do the job, I didn't need to know any other details besides this one location to say yes."
Even getting to the entrance of Hearst Castle is no easy undertaking. "Upon arrival at the gates of the castle, you go through a guard shack and are escorted to the top," reveals Ford. "That trip takes around 20 or so minutes because you have to drive no more than 10 miles an hour."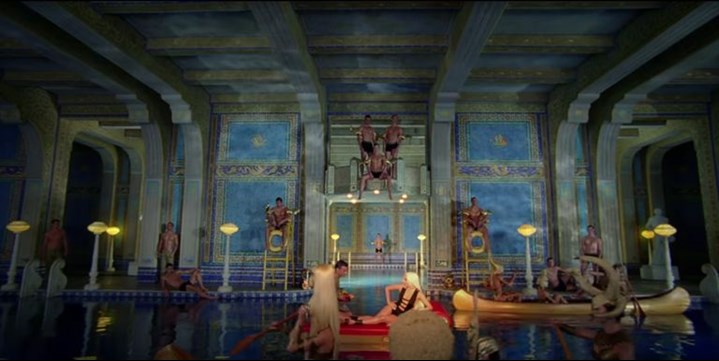 Unfortunately, upon his first visit to the Roman Pool, Ford found out that it "had recently been drained and refilled, and the water temperature was around 50 degrees, and the "team was only prepared for normal temperatures because it was an inside pool." So, Ford "immediately had [their] truck stop at the closest sporting goods store [so that they could] pick up wetsuits, but all [the store] had were ocean [diving] suits, so the insulation was very low level. The plan was to install the deck on the first night, and then, in the morning, construction would come and skin the lid of the deck, so [they] couldn't wait until the morning to get low temperature wetsuits."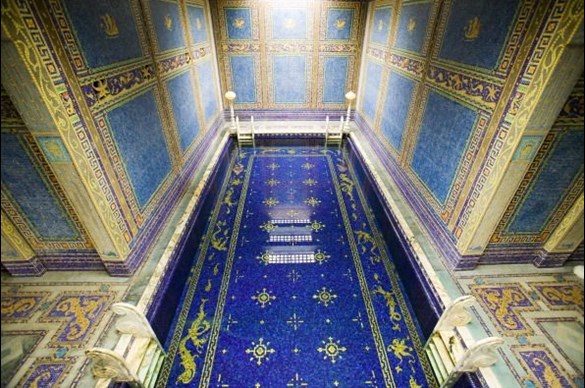 Ford goes on to say that "the water was so cold that you couldn't hold your breath because the wind would be knocked out of you as soon as you dunked your head under. So installing a 16x24 deck on 4' legs, something that would take an hour on a stage, ended up taking up hours and hours to complete."
But still, Ford maintains that his "first time seeing the pool in the daylight took my breath away more so than the freezing water!" He adds that "the interior of the pool was absolutely stunning. It was unlike anything I had ever seen before. The rich blues and the shine of the gold [were] so vibrant even though it was nearing 100 years old. At the far end of the pool, we made a bedroom out of a giant clam shell."
The crew designed Lady Gaga's set to match the pool, incorporating the custom clam bed as well as "a custom gold lifeguard tower, a red snakeskin lounge that [Lady] Gaga laid on in the pool, gold canoes, and custom gold water wings for the male models hanging around the pool," says Noh.
This music video shoot was a major group effort that even included park rangers. Denise King, a Guide II Supervisor at the Hearst San Simeon State Historical Monument, shares that Hearst Castle is owned and operated by California State Parks, and this video shoot "involved coordination through the Department of Parks and Recreation, the San Luis Obispo County District Superintendent, the Museum Director, as well as the Hearst Family."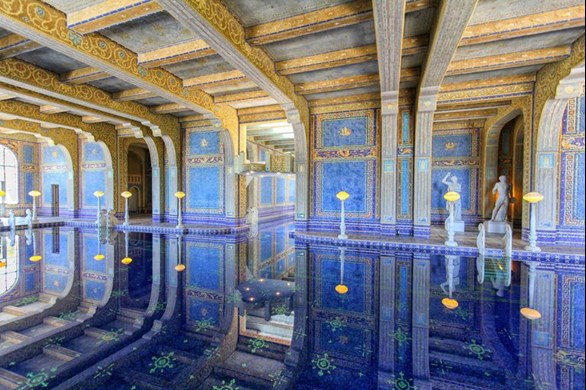 In addition to "a small fire at the Neptune Pool," there was another, longer-lasting dilemma to be had on this video shoot: Ford shares that a "brushy area in a ravine on the back side of the castle" was scouted for a scene in which Lady Gaga falls from grace, so she lays down in the dirt. Well, "it was later discovered that the brush was in fact poison oak and the majority of the art crew were covered in it. Poor Gaga was laying down face down in the dirt, and two weeks later, when we did her performance at Stubbs for SXSW, she was only barely recovering from it." In the end, I think it's safe to say that this spectacle of a music video made all of the less than glamorous struggles well worth it.