by Ingrid Schmidt, The Hollywood Reporter
The Time's Up and #MeToo movements made a splash at the 20th annual awards show, where Kerry Washington and Guillermo del Toro were honored.
While past Costume Designers Guild Awards have been a platform for the most extra and exuberant get-ups, this year's 20th annual event at the Beverly Hilton Hotel in Beverly Hills felt way more sedate and the females-first theme ran supreme. In deference to the Time's Up and #MeToo movements, the majority of the style-savvy crowd wore black and Time's Up lapel pins were aplenty.
 "On Jane The Virgin, I met my costume design hero, Rachel Sage Kunin," said host Gina Rodriguez, whose sparkly slip gown with an up-to-there slit stood out. "Costumes help actors bring characters to life and are pivotal to finding and discovering who those characters are. But costume fittings are a vulnerable space when the designer's canvas is your body. Since the first day we worked together, Rachel made me feel confident and beautiful. She was making costumes for me while catering to my specific body type and comfort level. As a performer, that kind of support in a world that is riddled with body confidence issues is priceless. To find a costume designer who is both concerned with contributing to your journey as an actor and the journey of body acceptance is like finding a pot of gold at the end of a rainbow."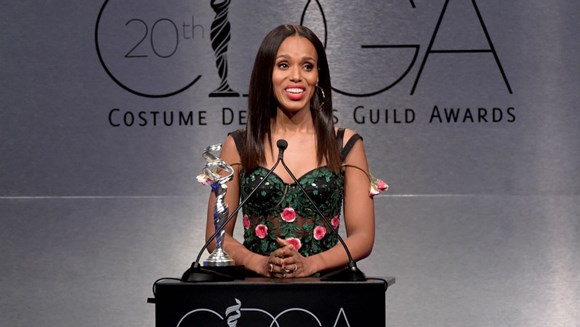 Donning a floor-length green Dolce & Gabbana gown blooming with fuchsia flowers, a colorful emblem of spring that felt like a ray of hope, Kerry Washington was recognized with the Spotlight Award for her seven-year run on the ABC series Scandal in a range of powerful pantsuits designed by Lyn Paolo. "I don't really know who a character is until I know what shoes she wears, because the shoes tell me how I walk, they tell me how I stand, they tell me who I am," said Washington. "I have relied on costume designers my entire career, every step of the way.... We've always stood by each other's side. When we heard that the network, the studio, was going to create a clothing line inspired by Olivia Pope, Lyn and I together said, 'Not without us!' '
Beyond the writing and directing, Washington said that Olivia Pope is who she is "because of those extra 15 minutes in the fitting when you put the clothes on and you stand in the mirror and say, 'Yeah, that's OK but we want it to be great. We want to go past OK into telling a story, into moving a heart, into informing the audience of a deeper truth, because we know that a pair of shoes can do that!'"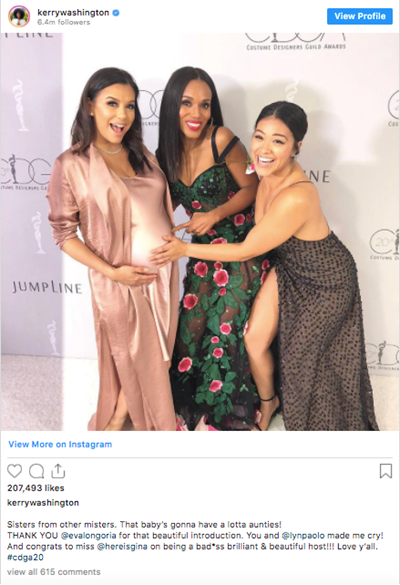 "It's a great time to be a woman," said The Handmaid's Tale designer Ane Crabtree, accepting her award in the Contemporary Television genre. "It's a great time to be a multiracial person. It's a great time for costume design and for making change. There's been an assault on women's rights. There's been an assault on people of color and their rights and we are part of the resistance. I believe that. We are part of the change."
Fresh off his BAFTA win as Best Director for The Shape of Water on Sunday, director/producer/writer Guillermo del Toro received the Costume Designers Guild's Distinguished Collaborator Award. "One of the first things that I do in every project is to create a four- to eight-page biography for every single character," said del Toro. "A huge amount of language that we transmit who we are and what we're about with is nonverbal, costume is a way we present ourselves to the world and how we engage in the dialogue of who we are.... If cinema is made of looks, and we need to get close enough to see those lines, costume becomes the frame."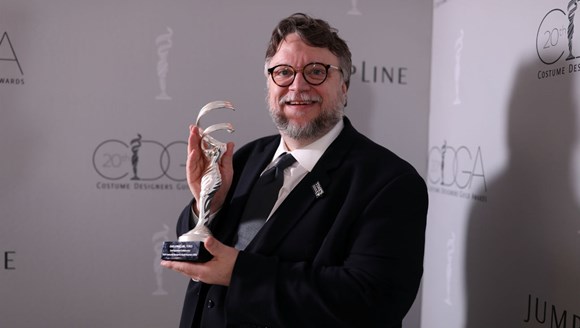 "His love of the other: those misfits outside of the mainstream, trickles down into every department," noted Doug Jones, who played Amphibian Man in The Shape Of Water. "The mute girl, her black best friend, her gay neighbor: he loves stories where the voiceless and the invisible triumph and become heroes. His films are an ointment against the society in which we live in, tearing down the phantom walls between us, whether it's racial, sexual, religious, he asks us to see each other and to choose to connect, to choose to love."
The awards show also honored renowned costume designer Joanna Johnson (known for her longtime collaborations with Steven Spielberg and Robert Zemeckis) with the Career Achievement Award. Jeweler and metalworker Maggie Schpak walked away with the Distinguished Service Award; owner of the Metal Arts Studio in Glendale, Schpak has created pieces for television and film for more than four decades — from the championship belt worn in the Rocky films to jewelry and insignias for the Star Trek films and the tiaras for The Princess Diaries and Black Swan.
Actor Mark Hamill (known for playing Luke Skywalker in the Star Wars film series) paid tribute to Oscar-winning costume designer John Mollo (Star Wars, Gandhi), who died last October at age 86 and was posthumously inducted into the Costume Designers Guild Hall of Fame.