by Mekita Rivas, Glamour
I first discovered Jane the Virgin after watching Gina Rodriguez's emotional, inspiring acceptance speech at the 2015 Golden Globes, where she won the award for Best Actress in a TV Comedy. I was compelled by her charisma and vulnerability. I felt moved by her mantra of "I can and I will." I also couldn't ignore that she was a fellow Latina, and that she won an award for playing a character who wasn't a maid, mistress, or any other Latinx trope.
I immediately started watching the CW show, which is now on its fourth season, and I've been hooked ever since.
Perhaps what's most remarkable to me about Jane the Virgin is how it showcases a Latinx family in a way that I relate to—save for the less-than-normal circumstances under which we meet the titular character. But when I was growing up, Latinx representation on mainstream television was limited. The Brothers García was the only show I recall watching with a predominantly Latinx cast. Beyond that, you had to catch Latinx characters where you could: A.C. Slater (Mario Lopez) on Saved by the Bell, Matt Santos (Jimmy Smits) on The West Wing, and George Lopez on his eponymous show come to mind. You may have noticed those are all men. That's because, for many years, I felt that Latinas were largely missing from the television landscape, and even when they were onscreen, they were often typecast as seductive sexpots (i.e. Gabrielle Solis on Desperate Housewives) or frumpy, vindictive maids (like Rosario Salazar on Will & Grace). Then Jane came along.
When I watched Jane the Virgin, it felt like being reunited with my long-lost twin: She's bookish, a perfectionist, and an aspiring writer. She comes from a family of immigrants and works her way through college. But the similarity I was most struck by—and still am, three seasons in—is how closely Jane's wardrobe resembles my own. She may lead an abnormal telenovela life, but her clothes are actually, well, pretty normal. And that's precisely why I love them.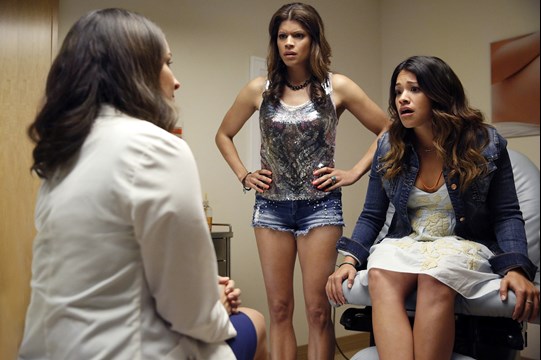 Seeing that normalcy represented through fashion is important to me because, for far too long, Latinas on TV have been stylistically one-dimensional. They were in skintight dresses, uniforms, or chola garb. I don't ascribe to any of those sartorial depictions of Latinas, but they were the only ones available to me as a kid. And because these were the only ones I saw, it made me question my own latinidad on more than one occasion—after all, I was a brown girl from Nebraska who didn't speak Spanish, was of mixed race, and didn't have many Latinx friends. I wore glasses and shopped at Target, Old Navy, and TJ Maxx. My clothes were generally unimpressive, although I definitely tried way too hard to be trendy: If prep was in, I'd wear polos; if it was punk, I'd rock the plaid. Fashion was my way of fitting in, especially in a world where I constantly felt exoticized, so while my clothes didn't necessarily reflect my personality at the time, at least I belonged.
Yet even when I did see characters onscreen that dressed like me, they didn't look like me. And if I couldn't see myself reflected in the stories I was consuming, did that mean my story wasn't worth telling? And was I Latina enough if I didn't look, act, talk, or dress like the ones on TV?
I wish I could say that I eventually reached the definitive answer of "Yes, of course I am," but it's honestly a question I still grapple with. Fortunately, Jane Villanueva has helped alleviate some of those insecurities. She isn't a caricature or a cliché. And through her sense of style—which is largely unremarkable and isn't a plot device on the show—I've finally found a Latina style role model who doesn't just get me; she is me.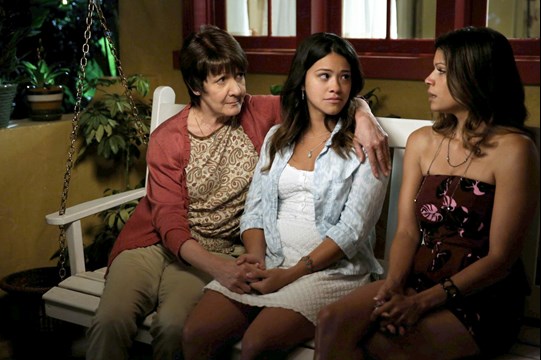 "It's absolutely ridiculous that Latina women have been put into this over sexualized box," says Rachel Sage Kunin, costume designer for Jane the Virgin. "I feel privileged to be able to show off a character like Jane."
In earlier seasons, she explains, Jane gravitated toward a variety of prints: We saw her in everything from florals and tie-dye to stripes and polka dots. She even rocked pineapple prints a couple of times. And although Jane doesn't come from wealth or affluence, she's almost always put together, proving that great style doesn't have to break the bank. "I shop a lot at Target and Kohl's for her," Kunin said. "I also do a lot of sales hunting. Even if Jane could afford an expensive dress from Neiman Marcus, she's too practical to buy it at full price."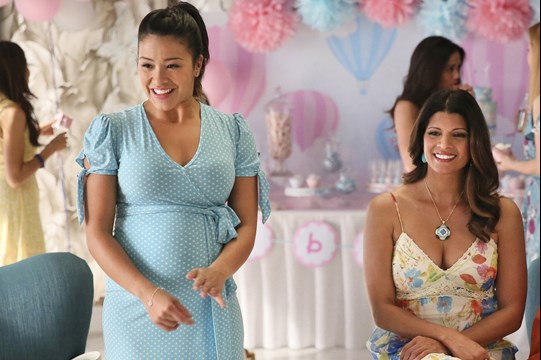 Just like Jane, I've done my fair share of experimenting with prints, especially in my early twenties, when I was figuring out my postcollege sartorial identity. I've since outgrown them, and now favor pieces with minimal or more subtle patterns. And as Jane made the transformation from 23-year-old pregnant virgin to young mother and widow (does that count as a spoiler?), her wardrobe followed an evolution similar to mine.
"She may have chosen a polka dot dress then, whereas now she'd opt for something a bit hipper or more modern," Kunin says. "She may have chosen a fit-and-flare dress before, but now she'd opt for a sheath dress."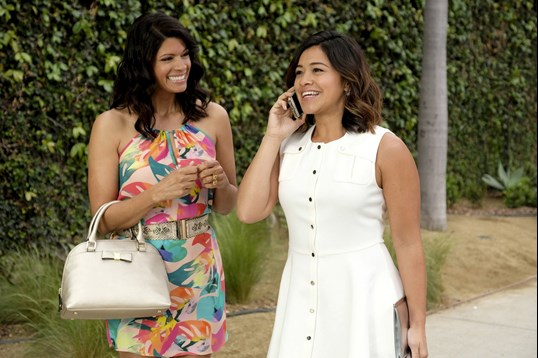 After Michael's death last season and the subsequent three-year time jump, the costume designer explained that viewers saw a more grown-up Jane. "Jane has had to mature since Michael's death," Kunin said. "She's always had a cute sense of style, but it's evolved quite a bit."
In the second half of the third season, for example, she wears sleeker silhouettes in solid colors like blush, magenta, and orange. She still incorporates florals and stripes occasionally, but other prints have largely disappeared from her new adult wardrobe.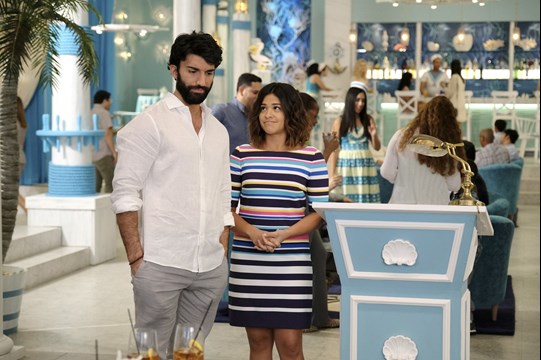 When Jane chose this slinky Lovers + Friends minidress to commence her fling with Fabian, an incredibly attractive telenovela star she meets on the set of her father Rogelio's show, I related to her line of thought: I've definitely worn uncharacteristically provocative pieces to give myself that little ego boost before a rendezvous. It's a sartorial move that's a clear departure from, say, her super-casual denim-and-knit look back in season one (which, to be fair, I proudly own a version of). But that's part of what makes Jane's style feel so refreshing to me: She mostly wears accessible, cute, and on-trend apparel. When she does get dolled up, it's feminine yet modest. She's rarely outrageous or oversexed, unless it's part of the storytelling—like with the aforementioned Fabian plot or with any of the show's numerous fantasy sequences.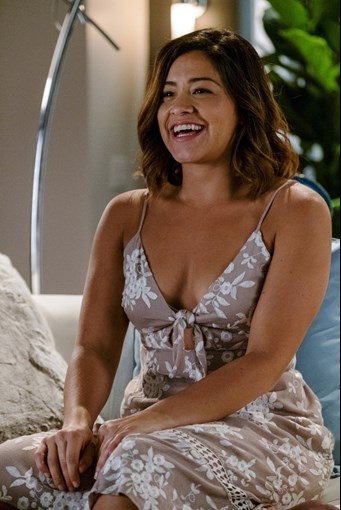 When it comes to collaborating with Rodriguez, Kunin said that they're usually on the same wavelength about Jane's style evolution. "Gina and I find common ground on where Jane's head is at," she notes. "Often we'll find something and agree that we should save it for down the road. It's where we see her going, but perhaps she's not quite there. Or we'll agree and say, 'That's so Jane season two!'"
Rodriguez understands that relationships with fashion are complex and constantly changing: The actress previously told Glamour that because she "grew up as a tomboy," she wasn't sure how to engage with fashion.
"[I grew up] with a mother who didn't really wear makeup and didn't really put an emphasis on wearing labels or anything like that," Rodriguez said. "If you asked anybody who knew me in college, they'd be like, 'Yeah, she doesn't care—she'll throw on a T-shirt and keep it moving.'"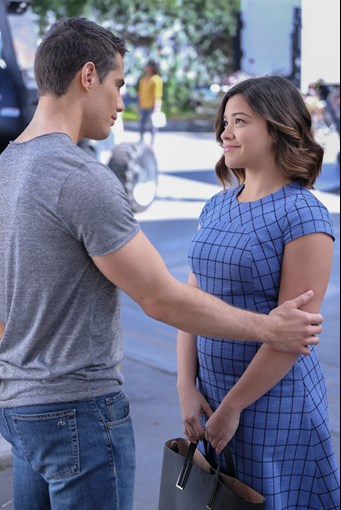 She acknowledged that she's becoming "more adventurous" and learning how to embrace fashion as a tool for self-empowerment.
"I'm discovering myself and what I like," Rodriguez said. "That's huge for me. Fashion is about treating yourself well and being your own hero in your story."
The fourth season of Jane the Virgin premieres tonight at 9:00 P.M. ET on the CW.