by Hasina Khatib, Vogue
A closer look at how the show walks the fine balance between the fantasy of the fashion world with the realities of the job—in thigh-high Louboutins, of course
The average twenty-something's everyday wardrobe may not be a rotating carousel of designer names, fresh-off-the-runway couture and avant-garde labels known only to insiders, but Jane Sloan, Sutton Brady and Kat Edison are not your average twenty-somethings. As the frontrunners of all things style and fashion at the fictionalised Scarlet magazine on The Bold Type, their job does not only involve dishing out sartorial gospel to their avid readers but to partake in it themselves as well—enabled by the joys of having the mystical fashion closet at their disposal.
The result is one of television's best-dressed wardrobes that matches pace with the trend turnovers of the season. While magazine writer Jane leans towards classics, social media savant Kat's lineup plays host to the full spectrum of colours and stylist Sutton is always game for runway-ready couture while on the party prowl. We spoke to Danielle Launzel, who holds credit for the costumes for the show's fourth season, and Mandi Line, who has worked on the upcoming season, to share their best-kept secrets. Spoiler warning for anyone's who is not up to speed with the past four seasons.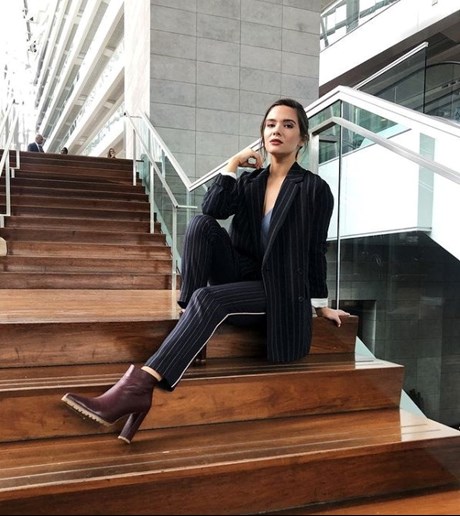 On Jane's feminine style
As the character ascends through the ranks at the magazine, her wardrobe has grown and evolved with her—and Launzel agrees. "Katie Stevens, who plays Jane, has a very keen sense of what she likes and works well on her body. As she was transitioning to a more important role at Scarlet in the later seasons of the show, we wanted to keep her youthful look alive while adding an elevated professionalism," she says, and Line agrees. With recent seasons focusing on her meteoric rise through the magazine, her wardrobe has been designed to deliver on impact. "In a special moment from an upcoming episode, we will see Jane walking in for a talk with Jacqueline—a power couple, of sorts. For this moment, we opted for a pinstriped jacket with her signature Isabel Marant-style leather leggings and thigh-high boots—the sartorial equivalent of communicating that she's on her way to being the boss," she elaborates.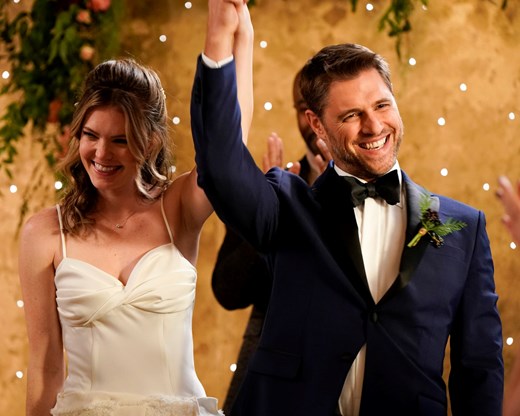 On Sutton's sartorial savvy
"When we last saw Sutton Brady, played by Meghann Fahy, she was in a transitional period in her life where she was entering the grown-up phase, getting married and deciding on what she wanted for her future. This included her stepping into the world of styling," recounts Launzel. To ensure that she was dressed for the job, the costume designer pulled in some tricks from her own days on the job—as illustrated in the crossbody bags for going hands-free and comfortable yet stylish shoes spotted on the young star.
Fans of the series will also recall that the last season involved not one, but two showstopper wedding dresses for the character's onscreen nuptials. "For the wedding photoshoot, we went to a local bridal shop and they treated us like she was actually getting married. We got the full bridal shopping experience and tried on dresses with prosecco in hand," she reminisces. To ensure that the looks were distinct from each other, the producers requested for the photoshoot number to be a traditional affair, while the actual wedding dress was an experimental take on the genre that played to the character's strengths as a budding designer on the show. "We designed a shorter wedding dress as was requested by the producers but didn't want to forego a train, so I designed an asymmetrical lace and satin dress that she could conceivably have made on her own and added some of the lace from the character's mother's wedding dress," says the California-based costume designer.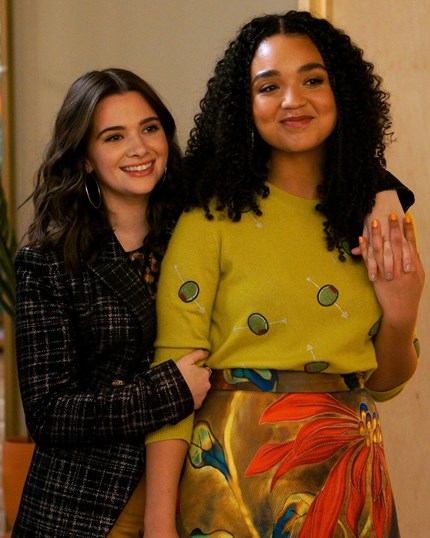 On Kat's free-spirited bohemian style
Scarlet's former social media head isn't afraid to speak her mind online, and it stands to reason that her wardrobe follows suit—expect edgy silhouettes, risqué cutouts and experimental print-on-print pairings. Launzel says, "For Kat Edison, played by Aisha Dee, I conceptualised the Nili Lotan aesthetic which is chic without trying too hard. Kat could wear a pair of jeans and a tee shirt with the right accessories and be in a league of her own—she can get away with almost any look from going up against her bosses in the conference room to an LGBTQ+ party."
The show often sees the young firebrand crusading for change, and her onscreen wardrobe is underscored by a thread of activism as well. In the upcoming season, fans can expect Kat's wardrobe to be vocal of her support for black designers, says Line. "You'll want to keep an eye out for her yellow two-piece ensemble in an upcoming episode from the Black Designer Database which works with black fashion designers. The outfit in question takes its cues from the colours and team name of the first black baseball team. You'll even find Kat sporting a 'Support Black Brands' T-shirt in this season," she adds.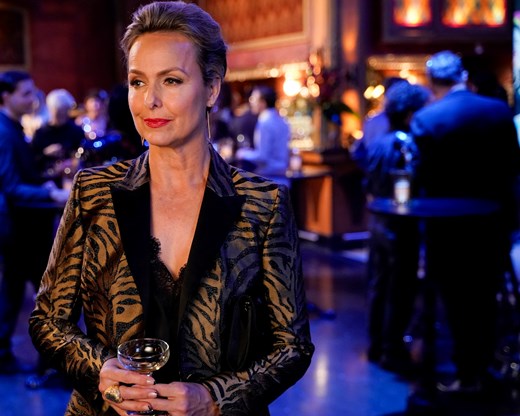 On Jacqueline's lexicon of power dressing
While tailored blazers and power suits are the de facto uniform for Scarlet's editor-in-chief, Jacqueline Carlyle isn't afraid to show some skin in the boardroom with unexpected cutouts. "I was glad to be able to include the path of an older woman in addition to what happens in the lives of the twenty-somethings, As the editor, Jacqueline had to look powerful, self-confident and pragmatic, and we used her style to delicately dictate all of these elements," says Launzel. The previous season saw the editor temporarily separating from her husband, and the costume designer leveraged the story arc to explore her experimental side. "Jacqueline leaned into more fitted silhouettes for her dates and showed a feminine side which can be lost when a woman is such a powerful authority figure. The Alexander McQueen peplum motorcycle jacket she paired with thigh-high fringe Louboutin boots were apt for communicating this style evolution," she adds.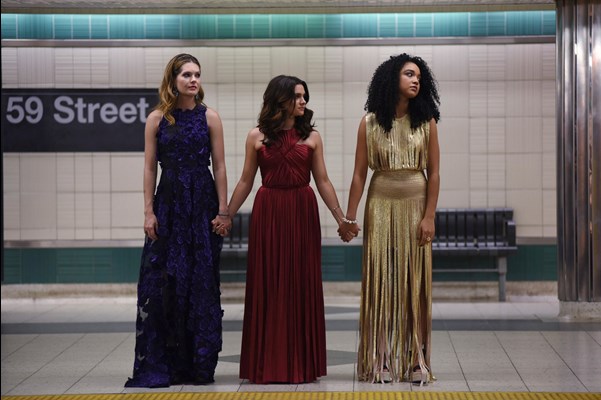 Fact vs fantasy: How the costume designers bring the wardrobes to life
From plunging necklines to mesh cutouts, the lead characters haven't ever shied away from embracing their edgy side, even while at work. Balancing the element of risqué within a conventional office dress code takes work, but the goal is to sell the fantasy of working in a fashion magazine, both the costumers believe. "When designing a television show like this one, fantasy is always expected. As long as they are not inappropriately dressed for work, we have taken some liberties with style, cut and edginess," says Launzel.
While it is understood that the Scarlet staffers have the magnanimous fashion closet at their disposal, they are also said to be living on mid-level media salaries. So how do the costume designers work on balancing fantasy with reality in their choices? "Let's be honest: they beg, borrow and steal," says Line and adds, "They borrow from the fashion closet and they borrow from each other. In Sutton's case, she gets invited to fashion shows where she gets gifted things, so we factor that in as well. On the whole, I have given the looks an aspirational element because we all need to escape, especially during this time." Launzel seconds the sentiment."In terms of affordability, some of the items we source from fast fashion brands are paired with a more expensive item, and you'd never know the difference," she explains.
For those of us who don't have access to the revered fashion closet, a quick peek at Launzel's shopping list should suffice. "We went to Bergdorf Goodman, Barneys New York, Saks Fifth Avenue, Bloomingdale's and other boutiques around town from where we'd pack up hundreds of items, send them to Montreal and take a week to try it on the actors before sending back what didn't work. The show is shot in Montreal and while the shopping can be great there, they don't have the amount of clothing we would need to keep the looks continually fresh and current. For instance, Jane could have up to fifteen looks per episode and though some of those looks are pyjamas or home looks, our characters have to be perfectly put-together to really sell the New York fashion magazine feel," she concludes.