by​ Linda Codega, Shots
Mo is the only woman in the crew of LiteFeet dancers known as the 2Real Boyz. They're Bronx-based, with deep ties to the city, but Mo's ambition cannot be contained by any single city, even one like NYC.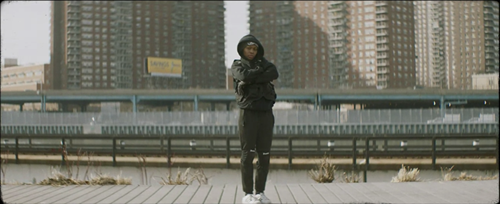 Growing up in the underprivileged part of NYC wasn't easy for Mo, or anyone in the 2Real Boyz dance crew.
The Next Stop follows Mo as she dances through subways, across sidewalks, and by the East River, all the while relating her life story. Vignettes from the 2Real Boyz ground her perspective. The founder of the dance crew was murdered, dancing in the subways is an art form, and illegal, there's a lifestyle that threatens the dance crew, surrounding them.
Produced by UNIT9, The Next Stop is a short film about perseverance, art, youth culture, and urban ascent. It creates a bridge between the new club culture and the older art forms. It's easy to see the parallels between drag balls, formals, social competitions, step shows, and LiteFeet. By showing the movement independent of music, with just narration, director Jonathan Pearson focuses on the human, on the expression, and on Mo's future.
"New York has a grand tradition of street dance, and so the chance to tell a story in that space, but from a fresh point of view, felt hugely exciting to me. More personally, however, I've always gravitated towards tales of passionate people with dreams, especially ones where the odds are stacked against them," says Pearson. "[Mo's] journey has very much only just begun, so for me, The Next Stop is very much a story of hope."
Director of Photography: Adam McDaid