by Danielle Solzman, Below the Line
Based on the Disney park attraction of the same name, Jungle Cruise takes audiences on a whirlwind adventure through the Amazon where researcher Dr. Lily Houghton (Emily Blunt) and her brother MacGregor (Jack Whitehall) hire the services of skipper Frank Wolff (Dwayne Johnson). Lily is in search of an ancient tree, but she's not the only one. They encounter all kinds of danger on their journey, which offers a throwback feeling to classic action-adventure films.
Because the film is set along the Amazon River and features underwater scenes, the project reached out to veteran Underwater Cinematographer Ian Seabrook. Seabrook's work can also be seen right now in M. Night Shamalyan's Old and in the upcoming documentary, The Rescue, from directors E. Chai Vasarhelyi and Jimmy Chin, which is set to premiere at a number of September film festivals. Seabrook also discussed the experiences of working on both films during the pandemic and the Covid protocols on set.
Regarding Jungle Cruise, Seabrook took us behind the scenes to discuss a key underwater sequence from late in the film, and the challenges that came with shooting it on set. In addition, Seabrook also spoke with Below the Line about what it was like to work with director Jaume Collet-Sera in addition to stars Dwayne Johnson and Emily Blunt.
Jungle Cruise is now playing in theaters and is streaming through Disney+ Premier Access.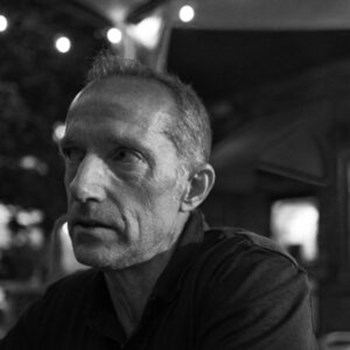 Ian Seabrook (Photo by Mark Twight)
Below the Line: How did you first become interested in underwater cinematography?
Ian Seabrook: When I was a kid, I watched a lot of Disney nature programs and James Bond movies like Thunderball and You Only Live Twice had some stuff in it. I always was fascinated with the undersea world, and then I went to Australia and I got certified on the Great Barrier Reef. Basically, you come to that precipice in your life where you [wonder] what do you want to do. I'd already been out of university, and I was super traveling and I just realized that I really liked diving, and I was heavily into photography at that time. I started off trying to be an underwater photographer, not a professional but just getting into it just as an enthusiasm or as a hobby. There were minimal books about how to do it. There was no school on how to do it. You basically learn by shooting a bunch of film. I rented a camera when I was in Australia and I took some photos of the reef, which at that time was pretty dead. It was pretty calcified, so I'm sure it's even worse now or maybe there's some areas that they'd let it regenerate, but I still have those photos that I took.
I got into the film industry, and I ended up working as an assistant putting the cameras together in the housing and then underwater focus pulling. Eventually you get offered—I liked to have more of a journeymen process, learning each stage, and then not just saying, Oh, I want to do this and jumping in and having no idea and then making a lot of mistakes. I made sure that I worked with people and I worked on productions that elevated your skills, and you had to really be on your game for a lot of them so then your tendency to make errors was minimalized. So yeah, and then just being obsessed with it. I still am to this day. I still find it all very interesting. Cameras change every month, it seems. I do have a lot of my own equipment that I work with and I reused it on Jungle Cruise and I used it on Old. It travels a lot. I travel a lot—it goes everywhere. It's still been like a lifelong kind of obsession. For any discipline, I think that's what it requires. That's my own personal take on it.
BTL: What drew your interest in working on Jungle Cruise?
Seabrook: The production contacted me regarding the job, and I agreed to do it. That's kind of how it was. It wasn't like I was chasing the job or anything, they just contacted me.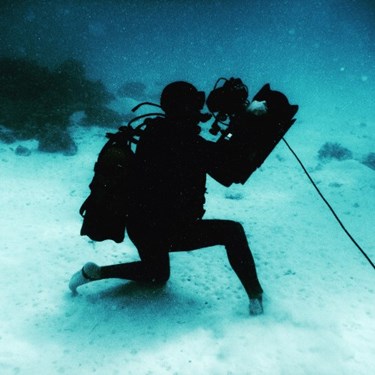 Seabrook on set of Batman v Superman (Photo: Warner Bros/Tim Rigby)
BTL: What camera and lens did you use on Jungle Cruise?
Seabrook: It was the Alexa SXT Plus and the lenses were paying Panavision anamorphic.
BTL: How much of the decision process went into matching what cinematographer Flavio Labiano was using for the rest of the film?
Seabrook: He was using the same camera and same lenses. He had a different set of Panavision lenses, but we had the C-Series lenses with us. They're just a little bit lighter.
BTL: One of the biggest set pieces in Jungle Cruise comes late in the film when Lily and Frank have to open an underwater puzzle. Can you talk about the process in how this particular scene came together?
Seabrook: Yeah, the production designer had built the puzzle piece. We had some preliminary meetings about the set pieces—how it would fit within the confines of a tank and slope and still be able to get people in and out of it in a safe way. Once the set was built—it was built outside of the water and then the tank filled, and then the set was placed in the tank—we did some stunt rehearsals. The stunt people go in and kind of do the preliminary checks to see whether it's going to be safe enough for the actors to go in. The stunts did some rehearsals and then on the day, basically there were some rough loose storyboards but a lot of it was improvised.
BTL: How long did it take to shoot?
Seabrook: It was about a week and a half or so.
BTL: What was the most challenging part of this sequence?
Seabrook: Lauren Shaw, who was Emily Blunt's double, did a fantastic job holding her breath for as long as she did and having to manipulate and maneuver the puzzle piece in an overhead environment. Working closely with her in confined spaces and also at the very end, when the puzzle piece rises out of the out of the water, we had a situation where we had the camera had to be focused on her while this was happening at the same time. Normally, you would just physically attach the camera to the set, but that wasn't possible because there was nowhere to attach the camera. I just suggested hand-holding the camera as the set was being lifted out of the water. We did a test and it worked. Of course, we ended up doing it five or six more times, so that was good.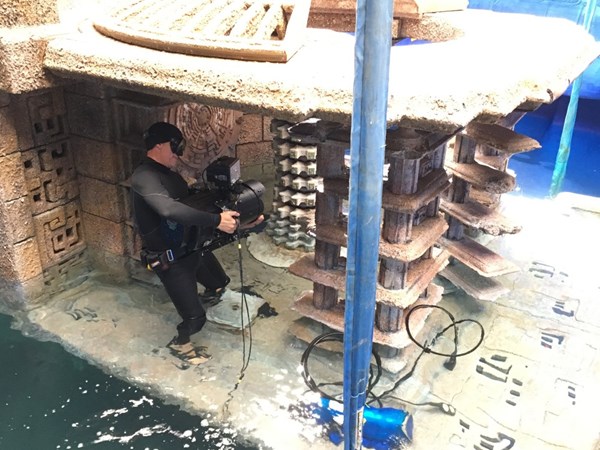 Seabrook shooting Jungle Cruise (Photo: Walt Disney Pictures/Peter Lee)
As any kind of set piece is being lifted up, being a car or whatever, there's a lot of pressure pushing down on you, especially if you're holding the camera and also with Lauren, who is manipulating the set pieces. There's a lot of weight pushing down on you as you're being lifted up. The shot doesn't end once the water is drained off the camera lens—you've got to keep the shot going. That was probably the most challenging thing that we did but just required everybody being focused and having good nerves, whereby you're not gonna be flustered by any of that stuff, especially Lauren, who didn't have an air source at all. She was holding her breath the whole time.
BTL: I thought it turned out beautifully when I watched the movie the other day.
Seabrook: Wonderful. Excellent. Glad it worked out. I haven't seen the film yet, so I'm glad you got the screener. I'll go to the theater on Friday when it comes out, because obviously, it's a spectacle. It's a summer movie, and it's meant to be seen on the big screen, no different from any of the Fast and Furious films. Some of the reviews have been coming out, and I think that people just have to realize it's a summer adventure movie. It's exactly what it was designed for.
BTL: It had a nice throwback feel.
Seabrook: When I read the script, Emily Blunt's character is basically sort of a female Indiana Jones. I believe the focus was more on her than it was on Dwayne. So it's good. I mean, Emily is very capable of doing all the action, and she's a great actor. Dwayne doesn't have to prove himself, but I think this was a different role because I don't think he was really—he kept his clothes on are he kept a shirt on for almost the whole movie. It's also a different thing where he's not showing his arms all the time. I think he probably enjoyed playing that character as well.
BTL: I had a lot of fun watching them play those characters.
Seabrook: Yeah, they had a good dynamic together. Even when they were in the water together, they had a good dynamic.
BTL: Were there other pieces in the film that you worked on?
Seabrook: Well, basically, the underwater sequence was them leaving the La Quilla, the boat, jumping in the water. We had a Technocrane working in the water at the same time. I was in the water doing the profile shots of them, as she's kind of just getting around his getting around his neck or shoulders, and they're gonna swim down. The Technocrane was kind of also moving around and adjusting and that was operated by Dave Thompson, who was the A-camera operator on the film. The two of us had to kind of do this sort of ballet where we weren't getting in each other's shots.
The boat was in an exterior tank that was in the second studio space at Blackhall in Atlanta. We basically had dug out a parking lot and filled it with water. They had a huge truss for rain towers and all that kind of stuff, so the boat could be in the rain and with actual current. We took Emily and Dwayne from the boat into the water, and then we did all that sequence. We also did where they swim down and then a lot of that was done with stunt doubles just because of the shooting schedule is such that the Emily and Dwayne were on the main unit while we were also concurrently shooting the underwater unit.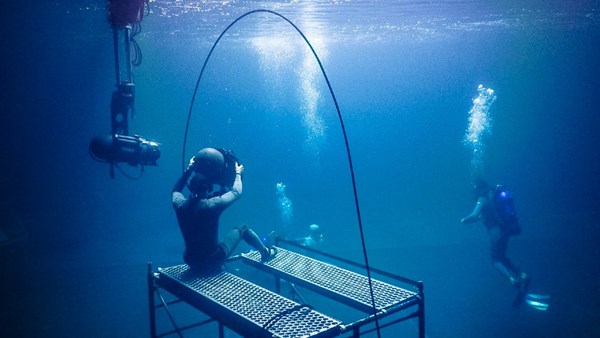 Seabrook on set of Deadpool 2 (Photo: Disney/Fox – Greg Milton)
There was many different units going like, "Okay, you're finished with here; now you're going to go over to Second Unit, and now you're going to go over to the underwater unit." There were constant units all going at the same time. It just became an availability thing. If they needed them for the scenes on the main unit, then we worked with stunt doubles. Sometimes, we wouldn't really know. We had been scheduled to shoot with them and then sometimes, it was like, well, they're still working so we have to get the stunt guys, which they were all great.
BTL: Can you talk about working with Jaume Collet-Serra?
Seabrook: He's great. I had a meeting with him in his trailer when I first arrived. We shot this in September of 2018, like three years ago. Obviously, a lot of films have sat in dry dock due to the pandemic. He was very calm. He wasn't overtly specific about what he wanted, but there were some boards there. At the end of the show, I got a hug out of him, so I'm assuming that everything went well.
It's a difficult thing when you're working on a film of that size, and you've got different units going, and you're relying on the people who are doing those units that they're going to deliver what you need them to do. It's good that we were working. We had some autonomy there. Storyboards usually are just a rough guide. On some films, they don't want you to deviate from that board at all or the pre-visualization. Other shows, they give you a little bit more latitude. It just depends on the show and the effects budget, but Jaume was great.
BTL: Have you been managing to keep busy during the pandemic?
Seabrook: I was over in the UK during the pandemic in 2020 on The Rescue — that is from the directors that won the Oscar for Free Solo, that's Chai Vasarhelyi and Jimmy Chin. We did that in the UK for a couple months, and then I was over in the Dominican Republic on the M. Night Shyamalan picture that's in theaters now called Old.
There's a lot of travel going on. I was obviously okay with traveling during the pandemic, but it was interesting to see a lot of the airports … they were pretty ghost towns. Everything was still functioning, but if you just adhered to all the rules, it was fine. Certainly with Old, Night put a lot of his own money into the COVID testing that the crew and the cast are tested a couple of times a week, which is very expensive. I don't even think they had an outbreak. A lot of shows that were shooting  did get shut down as a result of a positive test but so far, if everyone follows the protocols, it's possible to get all that work done and not have none of the production get shut down.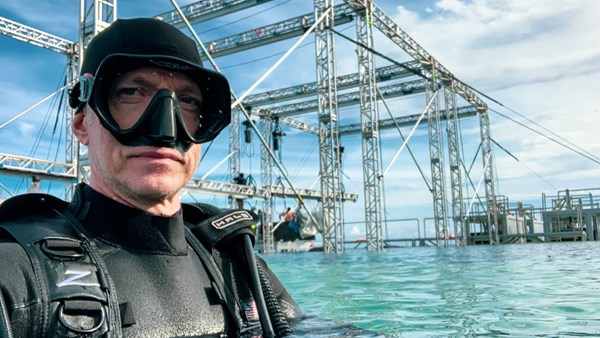 Seabrook on the set of Old (Universal)
BTL: So you felt completely safe on set with everything going on?
Seabrook: Yeah. There is some dialogue going on about that COVID is not transmissible in water. I would have my mask on in the water on Old because I was working closely with Embeth Davidtz. Just being that close to the cast, it was not necessarily that you're going to be spewing on them, but it was more that they recognize that you're taking precautions to protect them and yourself as well. When we get into water, and we would do our discussions and stuff, I usually always have my mask on. Anything underwater, of course the mask comes off. But when you pop up, I always had a small little kit that would be hanging off the side of the set. I would just put my mask on and talk to them like I normally am when I'm on a normal film set, and everybody has to have these things on.
BTL: Do you have a favorite camera and lens that you like to use?
Seabrook: I do like the Mini LF. I've been using that quite a bit. A lot of the jobs I do are mostly Alexa jobs. Back in the film days, we used the Arri 435 quite a bit. I started working on an Arri 3, which were both film cameras. We actually shot film on Old, so it was great to shoot film again. The digital cameras are great. I've done a little bit of Red stuff, not too much, but most of it's been Alexa. I'd say the Mini LF is a great camera and on Jungle Cruise, I needed a smaller platform. I needed a smaller footprint in those sets and often cases when I'm in cars or any kind of confined spaces. Like [The Rescue], we were in tunnels, and Old, we were in tunnels. You need a smaller footprint than a large mass that is going to bump into the wall of a set or can't fit in the car or anything else. That's why it was necessary for me to have my own equipment that was customized for my use.
Jungle Cruise and Old are currently playing in theaters nationwide, while Jungle Cruise can also be seen on Disney+ Premier Access.
Photos courtesy Ian Seabrook, except where noted.