by: Anthony D'Alessandro, Nancy Tartaglione - Deadline Hollywood
Warner Bros. has revealed this morning what we first saw at CinemaCon, the trailer for The Matrix Resurrections. Why the more-than-two week delay? Because the studio's James Wan movie Malignant is opening this weekend in cinemas (and on HBO Max). In recent years, Warners has typically debuted a fresh trailer for a hot film on top of another hot title that's opening; i.e. the Birds of Prey trailer timed to It: Chapter Two exactly two years ago, and the Tenet 40-second teaser which ran with Hobbs & Shaw during the first weekend of August, 2019.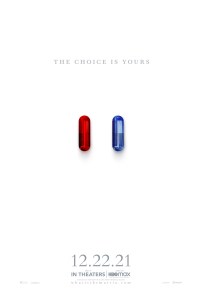 Warner Bros
If you read our previous post below, you'll finally be able to match all the words with images and understand what we're talking about. The Matrix Resurrections, co-produced by the franchise's long-time financier Village Roadshow, is a reboot and sequel of sorts: Keanu Reeves' Neo and Carrie Anne Moss' Trinity live in a near future San Francisco, and it's though their memories have been swiped. They've been reset and the movie looks to be about how they regain their power. Neo is taking the blue pills, which keep in line with the reality around him. But then there's Yahya Abdul-Mateen II's Morpheus-like character who lures Neo to live a life on the red pill, complete with a return to Kung-fu training. Jessica Henwick looks to be a fighter on the alternative reality side of life much in the way that Jada Pinkett Smith's Niobe was in the earlier movies.
The Matrix Resurrections is set for release on Dec. 22 in theaters and on HBO Max and in a clever marketing spin, the tag line in posters is "The Choice is Yours".
Warners premiered the trailer this AM at 6 AM PST with a two minute lead-up of score music.
Watch the trailer above.
Production Designer: Peter Walpole