by John Atkinson, Screenrant
Amazon Prime releases the first trailer for Solos — promising an uplifting counterpart to Black Mirror and two Anthony Mackies for the price of one.
The first trailer for Amazon Prime's anthology series, Solos, was released — uniting a star-studded cast for some heartwarming sci-fi tales. Created by David Weil, the seven-part series followed in the footsteps of Netflix's Black Mirror and Amazon's own Tales From The Loop. Unlike the former, however, though packed with elements including scheming smart homes and illegal memory transplants, Solos won't skew as bleak. Similarly, it won't be confined to a small town like the latter, but instead explore the furtherest reaches of time and space. As well as writing, Weil helmed three episodes. Sam Taylor-Johnson directed and executive produced two. The remaining episodes were overseen by Zach Braff and Tiffany Johnson.
Released by Amazon Prime Video, the first official trailer teased even more famous faces in front of the camera. Though the characters and the nature of their stories (both individual and overlapping) remained ever enigmatic, the cast was stacked from top to bottom. They included Morgan Freeman, Anne Hathaway, Helen Mirren, Uzo Aduba, Nicole Beharie, Dan Stevens, Constance Wu, and two versions of Anthony Mackie for the price of one. Check it out below:
The official synopsis reads: Solos explores the strange, beautiful, heart-breaking, hilarious, wondrous truths of what it means to be human. Performed by eight of the finest actors of our time, this anthology series spans our present and future and grapples with time travel, A.I. bots, solo trips to the farthest reaches of the universe, scheming smart homes, a mysterious waiting room, near-future fertility treatments and illegal memory transplants, all to illuminate the deeper meaning of human connection. These character-driven stories contend that even during our most seemingly isolated moments, in the most disparate of circumstances, we are all connected through the human experience.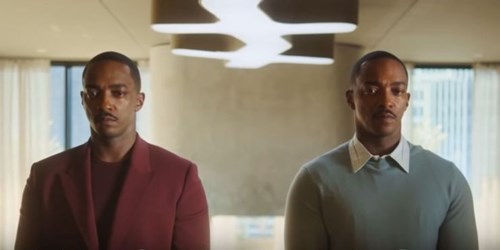 All seven star-studded and uplifting episodes of Solos season 1 will be released via Amazon Prime on May 21, 2021.
Producer: Pixie Wespiser
Production Designer: Ruth Ammon