by Matthew Jacobs, Huff Post
With a starring role in a new Hulu series, Fanning is now in the driver's seat of her career, taking on edgier and more ambitious parts.
"The Great" is, in many ways, Elle Fanning's star-making turn.  
Sure, she's been famous for about a decade, but always with the wide-eyed wonder that accompanies youthful renown. When cannibals were eating her in "The Neon Demon," her mother was stationed nearby on the set, supervising her 17-year-old daughter's employment. She was there when Fanning dined opposite Brad Pitt in "The Curious Case of Benjamin Button," ice-skated to Gwen Stefani in "Somewhere," got alien-abducted in "Super 8," experienced her first kiss in "Ginger & Rosa," charmed a devilish Angelina Jolie in "Maleficent" and took a pregnancy test in "20th Century Women."
Her parents no longer convoy her during shoots, which is probably for the best: "The Great" finds Fanning at her most adult, playing an anachronistic Catherine the Great discovering her own sexual and ideological moxie. Good thing Mom stayed home when it came time for Fanning's big seduction scene in the second episode of the limited series, which premieres on Hulu this weekend. She was 21 at the time, having gained autonomy after years of consulting her folks on every career move.
"I was just so excited because I knew that I was pushing myself in another direction that I'd really never gone," Fanning said during a Zoom interview last month. "I feel like I'm someone that loves being under pressure. I love feeling terrified and I thrive in those situations. And this certainly put me in those positions."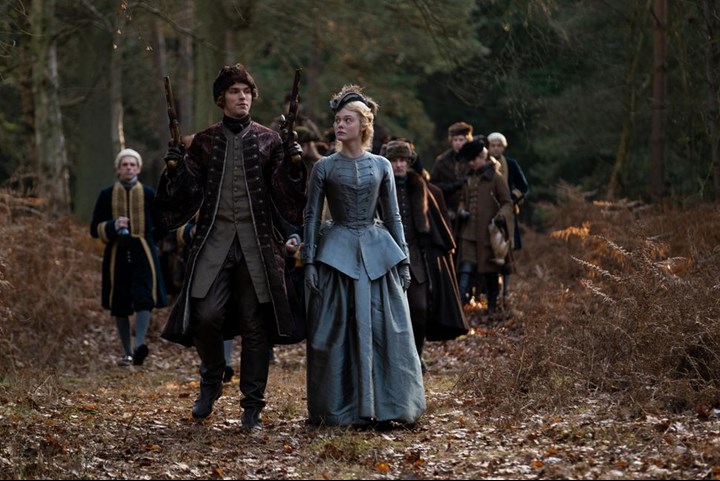 Part of that had to do with the material. "The Great" is a dark comedy, and Fanning had never done comedy before. Tony McNamara wrote eight of the 10 episodes, channelling the same satirical spirit he brought to "The Favourite," another farce about an 18th-century monarch. Fanning needed to capture the nuances of someone who has come of age without understanding the harshness of the real world. At once naive and headstrong, Catherine arrives in Russia for an arranged marriage to the buffoonish emperor Peter III (Nicholas Hoult). As a woman, she's entitled to very little power. She can't even open a library. She'll have to force her way to the top by manipulating her husband's intellectual shortcomings. 
Fanning's performance is a delight. She wears on her face a sunny disposition that becomes Catherine's armor, deployed ever so carefully when encountering snobs and chauvinists, who seem to follow everywhere she goes. Here, Fanning's toothy grin acts as a disarming mechanism, or perhaps a weapon.
"Doing the pilot, I was definitely trying to find myself and trying to let my guard down," Fanning said. "I think there's something with comedy that is so, I don't know, I get embarrassed. Do I go for it? Do I do the big fall, do I do the crazy face, can I make the weird noise? Do I go there? Because that's what's funny. Melissa McCarthy, she's amazing. There's something about a real physical comedy that I really wanted to add to Catherine, too. It goes back to Charlie Chaplin. But also I'm not from that world. Slowly, over the course of different takes, it'd be like, you know what, I can slowly creep my toe in and do a little bit more."
Creeping her toe in is an apt way to describe Fanning's career ascent. At first, she was best known for being Dakota Fanning's little sister. When Dakota burst onto the scene in the 2000s with a string of hits that included "I Am Sam," "Man on Fire" and "War of the Worlds," the praise she received was breathless. Critics characterized her talents as a once-in-a-generation phenomenon. "One of the most actively employed child actors in the movie business and one of the most gifted, Miss Fanning has both chops and a preternaturally intense screen presence," The New York Times' Manhola Dargis wrote in her review of the 2005 horror flick "Hide and Seek." 
Director of Photography: John Brawley