by Danielle Turchiano, Variety
The latest comedian to launch a variety series is Sam Jay, whose forthcoming "Pause With Sam Jay" will premiere May 21 at 9 p.m. on HBO and HBO Max, Variety has learned exclusively.
The half-hour series, which comes from Jay and showrunner Prentice Penny, features various segments, from an apartment-set party hosted by Jay, to more structured sit-down interviews, sketches and animation. During these segments, which dive into current topics from race and religion to science and sexuality, Jay is out to "listen, learn and ask questions to those with different perspectives," the network notes. But the one thing the show will not have is a monologue.
"I didn't want to do an opening monologue because for me it feels like a thing you do to prove to America that you can make light of something and I just didn't want to do that," Jay tells Variety. "I didn't want to be doing this thing where every night I had to prove I'm funny. I feel like there's funny moments all throughout the show: sometimes they come from me, sometimes they don't; sometimes the funny is in the setup or the nuance. The type of comedian I am and the type of person I am, I find funny in the world — in how we think, approach things — and I really thought that this was a space to play with that."
For Jay, who was last seen in her first-ever Netflix stand-up special "3 in the Morning," as well as the stand-up documentary "Colin Quinn & Friends: A Parking Lot Comedy Show" on HBO Max and is known for her Emmy-nominated writing on "Saturday Night Live," expanding into the late-night arena is a way to "explore things in a more in-depth way and also to grow," she says. "I'm putting myself in situations to interact with different types of people in a way that stand-up doesn't necessarily offer instantaneously."
One of those situations is the aforementioned party sequences, which she designed to facilitate honesty among her guests. "I feel like when you see people making statements on Twitter or when pontificators on topics come on [to shows] they have their talking points, but when you're at a party, hanging out and drinking with your friends, you're more raw and honest about what you think about things," Jay says.
To better draw that out of people, those pieces of the show are filmed over "two or three hours" so conversation flows naturally. Although Jay shares she has certain things she wants discussed in those moments, she doesn't want to be "placing or staging" her guests in any way — they don't even get a "preamble" about the topics, she says, and she wants them to "forget the cameras." So, she limits the number and types of cameras used. For example, there are no locked-off cameras set up around the (real) apartment in which they shoot; everything is filmed via body cameras or hand-held ones so "the DP feels like another person in the room but also a fly on the wall," Jay explains. Additionally, there is no boom microphone used because "I just felt if there was a guy with a mic hanging over everyone's head then they were going to be self-conscious." 
"You're trying to set people up for it to be as natural as possible because this is a mixture of people I know from comedy who have some connection to performing but also just my friends, and I didn't want to be putting anyone in an awkward position," Jay continues.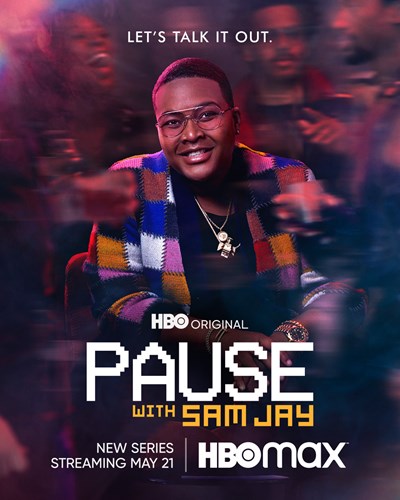 As conversation comes up in these scenes, sometimes it is topical, and sometimes it warrants a deeper exploration. When it is the latter, Jay supplements the casual conversation with more formal interviews with people who are considered closer experts on the subject matter. But, she is not focused only being timely.
"It felt like there was enough late-night chasing the news and I didn't want to be in that rat race with everybody else. The internet moves so fucking fast — Twitter is so quick — that by the time you hear any take, you're like, 'Oh I've seen three different versions of that already,' so I didn't want that," she says. "I'm trying to speak to the humanity more than the topicality. The hope is that we all see a little but of ourselves in there and can be a little bit chiller with each other [as a result]."
But because Jay is making the show amid the COVID-19 pandemic, that is bound to be sprinkled into many of the conversations, as well. In a teaser for "Pause With Sam Jay," which you can watch below, the vaccine comes up almost immediately, for example.
When HBO first picked up this show in the fall of 2020, Jay said in a statement that she wanted everyone to "wear a mask and vote" so she could make her show. In the end, though, she opted not to wait until the production protocols went back to quote-unquote normal to get out there and make it.
This was because everyone, she notes, has been "feeling a lot [and] having a lot of questions about how we've been interacting with this whole thing called life until this point, so I really wanted to address that through my own lens. But then there was also a feeling of, 'Who knows what normal is even going to be or when?' You could be potentially waiting forever."
Jay admits that it has been a learning experience to get this show off the ground. It started with a test episode — one she wasn't sure would work before she did it. But now that that is under her belt, she is "really happy to be able to make something that I think suits who I am and allows me to be the best version of myself, rather than to force myself in a box."
"Pause With Sam Jay" was created by Jay and Penny, the Emmy-nominated and Peabody and Golden Globe-winning writer, director and producer of "Insecure" who recently made his feature directorial debut with Netflix's "Uncorked." They executive produce alongside Chris Pollack, Langston Kerman, Diane Fitzgerald, David Martin and Kara Baker for Avalon, Michelle Caputo, and Shannon Hartmann. The show is co-executive produced by Alex Soler, directed by JamsXBash and produced by Art & Industry, Avalon and A Penny For Your Thoughts Entertainment.
Director of Photography: Adam McDaid