by Scott Mendelson, Forbes
The Kissing Booth 2 was easily the most-viewed movie or TV show on Netflix over the weekend, and the 2018 original also made a reappearance on the top-ten. The teen-targeted rom-com sequel, starring Joey King (whom I've enjoyed as an actress since Ramona and Beezus), Jacob Elordi, Joel Courtney, Taylor Zakhar Perez and Marie Richardson, is arguably Netflix's first outright "big" sequel, although actually it's only their second sequel outside of To All The Boys: I Still Love You. I don't know how many folks watched that follow-up, and who knows if Netflix will release hard viewership numbers for this one. But the Vince Marcello-directed flick, based on Beth Reekles' novels, is an improvement over the last film.
The 2018 movie, about a teen girl who falls hard for her best friend's older brother, was the first of Netflix's high-profile rom-coms that made up their "summer of love" and positioned the streamer as a place for polished, character-and-concept-driven romantic comedies that more-or-less approximated the genuine article from Hollywood. Since then, they've scored with Set It Up, Always Be My Maybe, Let It Snow and The Perfect Date (which was one of Netflix's ten most-watched movies ever). The Kissing Booth seems to work as a rom-com variation on the Twilight/Fifty Shades formula, with obviously less bondage or supernatural elements. To be fair, The Kissing Booth is also less conventionally prudish than either franchise.
Not only is there a (ham-fisted but sincere) subplot about a gay teen trying to come out to his crush, but the film doesn't give a damn about its female protagonist being sexually active with her (slightly older) boyfriend. This is a TV-14 movie, to be sure, but it doesn't treat consensual sex between two "of-age" youngsters as anything necessarily shocking or sensational. But, yes, it absolutely dabbles in the above-noted formula, except in this case "Jacob" (Taylor Perez's incredibly charismatic Marco) is unquestionably a better catch for Elle compared to "Edward" (Jacob Elordi's Noah), especially since (like the Twilight films) Elle and Noah spend most of their time fretting about the state of their always fraught relationship.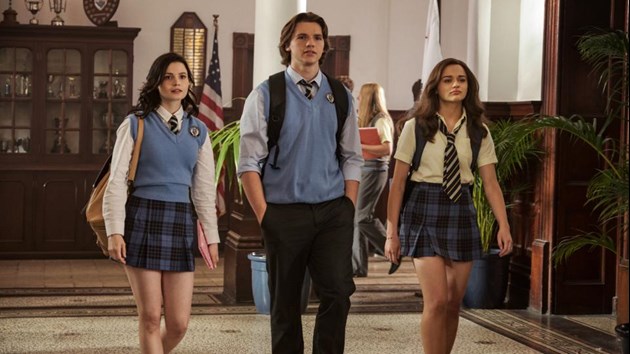 While (the unquestionably good-looking) Elordi is only slightly older than King, the huge height disparity (she's 5'1" and he's 6'4") and his voice being deeper than Armie Hammer's makes it seem like more of a predatory May/December relationship than intended (his temper, toned down in this film, doesn't help). The good news is that I'm a forty-year-old guy, and the targeted demographics have zero objections with any of this anymore than they did with the allegedly "problematic" aspects of The Twilight Saga and the Fifty Shades of Grey trilogy. We spent years handwringing over the Kristen Stewart/Robert Pattinson franchise, and yet the packed audience of fans with whom I saw Breaking Dawn 2 had a grand time without treating any of it as gospel.
The Kissing Booth 2 is, like Sex and the City or Girls Trip, very much a female escapist fantasy, involving a young woman going after what she wants, not having to be always responsible or the caregiver and getting to indulge with few hard consequences. It's also unconcerned about whether its female lead is a good role model or conventionally "empowering." The film is at its best when it examines how Elle becomes the villain in her own story, even if (no spoilers) lessons are learned and happy endings are earned by the end of its mammoth 130-minute run time. It's not a "darker sequel," but it does dabble in that arena as it reexamines the simpler morality of its predecessor.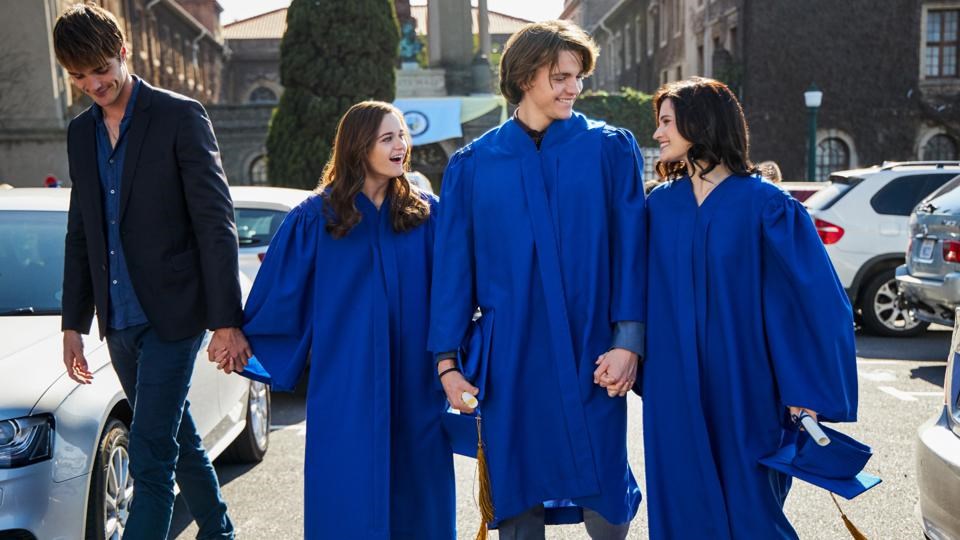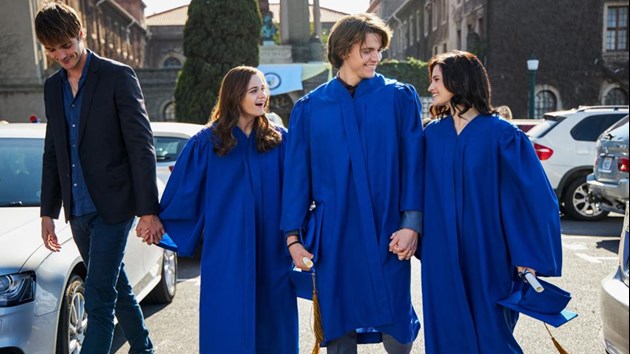 This stuff (including Stephen Jennings as Elle's dad who, like Billy Burke in Twilight, seems like he's in a more grounded movie) may all be in the Beth Reekles' books, novels that she began writing in 2010 when she was just 15-years-old. But taken on its own, Netflix's The Kissing Booth series isn't just a crowd-pleasing and colorful romantic comedy featuring polished production values, charismatic actors and the usual genre tropes. Quibbles aside (much of the conflicts could have been resolved by just talking it out), it's a successful approximation of the Twilight series and the (started as Twilight fan-fiction) Fifty Shades books into the teen-friendly rom-com sandbox, including a story that isn't trying to be overtly wholesome or conventionally empowering.  
As far as "second movies in a series" offerings go, The Kissing Booth 2 is much better than New Moon and Fifty Shades Darker, which were the respective critical nadirs of their respective film franchises. I could have done without one of the two cliffhangers, since (no spoilers) it reminded me of Fifty Shades in a not-good way. Let's hope The Kissing Booth 5 features a variation on the "Michael Sheen giggle," an inexplicable Wendell Pierce cameo and a super-powered mass battle scene so awesome (and filled with decapitations and fiery murders) that it puts Avengers: Endgame to shame. Supernatural murder-y Dakota Fanning is optional, but why wouldn't you want a supernatural murder-y Dakota Fanning if the opportunity presented itself?
Editor: Paul Millspaugh