by Jean Bentley, The Hollywood Reporter
Creator Hilary Weisman Graham and stars Asante Blackk and real-life father Ayize Ma'at reveal how they put together the Black Lives Matter-centric finale episode.
Like other shows in the "remotely produced pandemic series" genre, Netflix's Social Distance was created, written, filmed and edited in an extremely condensed time period. Now that the series, which began its writers' room April 20 and launched Oct. 15 on the streaming service, The Hollywood Reporter takes an exclusive look at how creator Hilary Weisman Graham (Orange Is the New Black) and the team behind the Jenji Kohan-produced anthology.
The Writing
Creator and executive producer Graham put together a writers' room with EP Tara Herrmann (OITNB, GLOW), OITNB vets Anthony Natoli and Heather Jeng Bladt, Joe Hortua, and writer's assistant Brandon Martin. They began working together (virtually over Zoom, of course), in late April, and had all the scripts together by June.
"We already had the challenge of trying to write about the pandemic as it was happening. And as anybody who has been on the planet for the last six months knows, it changes minute by minute how we are experiencing the pandemic and politics and everything. And then George Floyd was murdered," Graham says.
They'd almost completed the entire season's scripts — one installment features a family holding a funeral over Zoom, another features a father taking care of his young son while his wife is quarantined with COVID in another room, one features a nursing home caretaker trying to figure out childcare for her daughter as her nursing facility locks down — when they realized the finale would have to address the Black Lives Matter protests head-on.
"After that weekend of protests in LA, some of us went out to those — including me — I came back in that Monday and I was like, time out, there's been a change of plans. We cannot make an anthology about this moment in time and not include what is happening right now," she says.
While there were no Black writers on staff, they hired former OITNB colleague Brian Chamberlayne to consult on a storyline, and promoted Martin, who is Black, to write the episode himself. It turned into a two-hander between a young Black high-schooler who wants to skip out on work to head to a BLM protest, and his older Black boss who's not so keen on the idea.
Like in the other episodes, the casting department needed to find two actors who lived together to be able to film in the same location. It was especially difficult for episode 8, because the younger role was originally written for a 25-year-old and not many 25-year-olds live at home with their parents. They eventually found When They See Us Emmy nominee Asante Blackk and his father, Ayize Ma'at.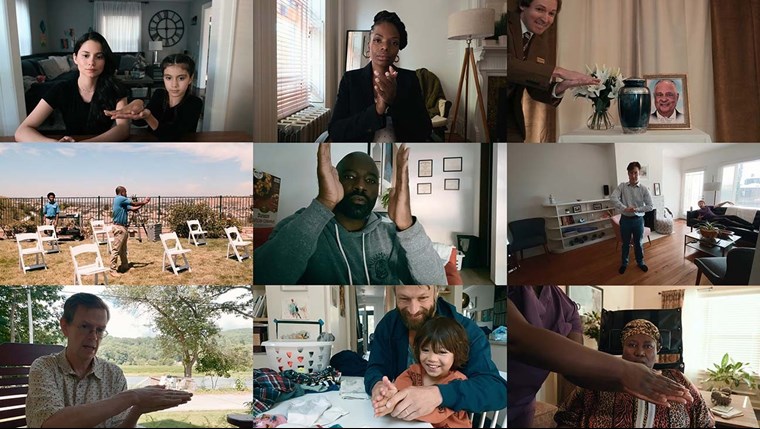 The Casting
Because filming took place in June and July, standard COVID protocols weren't in place that would allow non-related people to share space together. That meant actors' family members would play extras or significant roles — Danielle Brooks' mother plays her nursing home charge, real-life married couple Dylan Baker and Becky Ann Baker play a married couple on screen.
When Blackk's name surfaced for the role of the young man (thanks to a suggestion from his aunt, Samira Wiley), casting also learned that his father — not an actor, a relationship coach and therapist — was no stranger to the camera thanks to the videos he and his wife have been making for a decade for their coaching business.
"The first thing we heard about Ayize was he used to be a slam poet back in the day, and we were like, great! He has stage presence," Graham says. "And then we met with him. He actually read — he's the only person that read because we were like, we just have to make sure. And we were like, shit, he's great! So that worked out incredibly well."
Blackk originally thought the offer was for a documentary, but when his agent sent over sides for his father to memorize they realized it was scripted. So Ma'at studied his lines and sent a tape to the casting department. The next day they got the call that he'd been cast.
Ma'at and wife Aiyana have been making videos as part of their Black Love and Marriage business for years, so he was not as uncomfortable in front of the camera as some people might've been.
"That helped me in terms of my level of comfort, being in front of the camera," Ma'at tells THR. "And then also the experience of being on set with Asante and seeing him go to certain classes and hearing certain questions hearing certain lingo it made me more familiar with that dynamic as well. So I think with both things combined it definitely was helpful in my overall experience."
The Setup
The directors for each of the eight episodes were booked before the team knew what the episode order would be. But Anya Adams, who'd worked on Herrmann's previous shows GLOW and American Princess, landed what would become the first and the last episodes of the season. The first, about a barber (Luke Cage's Mike Colter) struggling with sobriety during lockdown, was a very different experience than the last.
Says Graham, "When we were meeting with cast over zoom, I was like, 'Guys, it's going to be just like Blue Apron. You're going to get a little box, and it's going to have some super easy instructions, and blah, blah, blah.' And then the reality was like, our actors are like 'the box isn't little! I'm schlepping 40-pound cases into my house by myself.'"
Things changed going forward, and Adams' first episode was filmed using the iPhone 11 Pro ("with Filmic Pro attached to it as a software that boosts the quality," says Graham), which proved to be much easier.
The audio situation changed too. Says Graham, "The second episode we shot we were like, Oh, this is what we can do instead of having the actors totally do all the audio — because there's complicated things, you have to turn on the channel for your wireless mic and it's a long, intense process — we'd have someone sitting outside in a van like the CIA or something and they would drop off mic kits on the doorstep and then sit in their van so it was like a contact-less sound person who wasn't holding a boom, but was just dropping off wireless body mics. But we couldn't do that everywhere. We couldn't do it in New York, because you can't have a van sitting out in the street in New York. But most places we did that."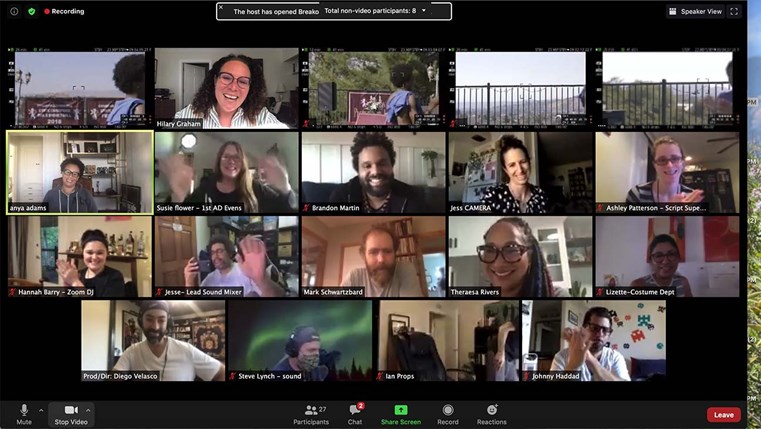 The Production
The setup was only part of the production struggle — then they actually had to film the thing.
"Every episode roughly was a five-day shoot, but we had overlap days. So as we were finishing in one episode we were shooting another episode. So there were a few times in the process where I literally had two different computer screens. Screen one is South Carolina shooting Danielle Brooks and her mom at their house, and screen two is somewhere in Los Angeles shooting at Mike Colter's home. And we have a director in New York, and then actors in New York for episode 2, and our line producer was in Atlanta," explains Graham. "It felt a little bit like I was at the Starship Enterprise in front of this crazy command center."
It's one thing to assemble the pieces separately; it's another to put them together from afar. That's even harder in practice than it sounds in theory — there's no way to lean over to a colleague in video village and whisper a note. Instead, it required forethought and planning.
"Our whispering was a private text chain, and we would also do breakout rooms in the Zoom and that was our way to talk privately. And often the director and the actor would have a private breakout room, depending on the director. Some directors would just give notes in front of everybody," says Graham. "it just depends on the working style and who the director was, but often the director would be in a private video village, or I would bring an actor at me into a private video village and we would discuss something."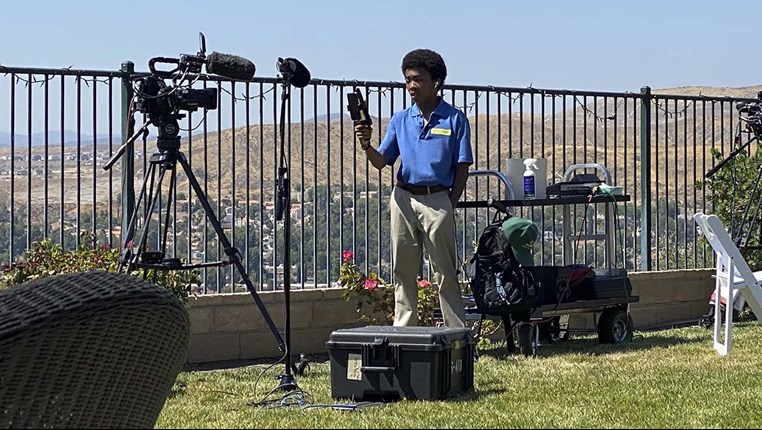 The Episode
The COVID situation had slightly improved in Los Angeles by the time episode eight was filming. And because the episode was going to be filmed entirely outside — the two characters are setting up speakers for a private school graduation, so the location was the Ma'at family backyard — production was able to swap iPhones for actual cameras.
Crew would set up the cameras and retreat to a van where they would control them remotely. (Extra equipment was set up on the family's basketball court, which Ma'at made sure would be okay with his wife and Blackk's four younger siblings before he said yes.)
"We had a lot of cameras set up, so [Adams] was shooting a multicam, essentially," says Graham. "There were conversations between her and the DP for that episode. After a shoot day they would discuss the next day and the angles, and I would be on the conversation and I was like, 'guys, I can't.' It was intense. You'd think more cameras, it's so much easier! But in a sense you've just made your job a zillion times more complicated."
But despite the extra camera and audio assistance that wasn't possible to provide in earlier episodes, Blackk and Ma'at had a lot of extra work — they had to move heavy speakers during their scenes, which meant when they cut, they had to reset the speakers to their original positions.
"Just with moving everything around and moving all the equipment around, we had pick up the speakers and all that. We had to do that close to 100 times," says Blackk before Ma'at interrupts — "maybe 20 times," he says, laughing.
The Future
While a project like Social Distance is relatable right now, it's hard to tell whether viewers will want to revisit this difficult time in a few years. But Graham says she's hoping it'll play well both today and in the future.
"I was never trying to capture history. I was just trying to capture this feeling at this moment in time where there's so much uncertainty in the world. There is so much unknown, nobody can make a plan, and emotions are running so high. Yes, I want it to be a time capsule that at some point in the future we look back on and we're like, 'oh God, remember that?' and really to feel how that feels," says Graham. "But mostly right now I want it to provide catharsis to everybody. What we're experiencing right now is so unprecedented. It connects us because all over the world, everybody is going through some version of it. No matter your experience, no one's having a great time right now. It's intense for everybody everywhere. And I just wanted something where people could see their lives reflected and help us process it. Help us laugh, help us cry, whatever the emotion is for each episode, because as human beings we rely on stories to help us process our lives and to feel our feelings."
For an episode like "Pomp and Circumstance," though, there's an extra layer. The racial reckoning happening in the U.S. and around the world right now is not new, but it's something that generations of people can relate to. And while Ma'ai plays a skeptic of the BLM movement, he remembers being on the other side in real life when he wanted to go to the Million Man March but his college basketball coach wasn't sure of.
Says Ma'ai, "To be able to tell a story that captured the essence of what's going on right now, but that has also been going on for decades, it's an honor."
Production Designer: Ryan Berg
Editor: Amy Fleming